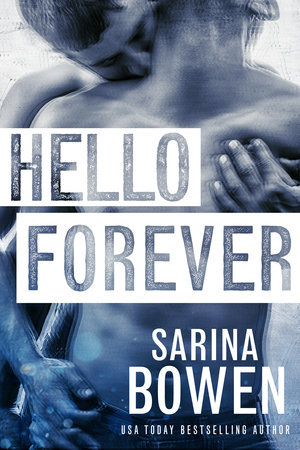 Hello Forever

by Sarina Bowen
on July 14, 2017
Buy on Amazon, Buy on B&N, Buy on iTunes, Buy on Kobo
Goodreads


A SINGLE BASKETBALL GAME CHANGES EVERYTHING...

When they were only teenagers, Axel and Caxton were caught making out in the woods at church camp. And afterward, Cax had disappeared from all the youth group activities.

Six years later, Axel is astonished to spot his first love's face in the crowd of a college basketball game he's watching on TV—at a school which has just offered him a job. It's a thousand miles away, in a tiny rural town. But suddenly, he can't wait to get there.

Cax can't believe his eyes when Axel appears in the same Massachusetts town where he now lives. And he's still just as drawn to Axel as ever. But he can't let himself go there again, because loving Axel will mean giving up everything else he holds dear.

Both men have so much to lose. But as far as their love is concerned, it's Hello Forever.

Hello Forever is a stand-alone novel with no cliffhangers. Readers of Goodbye Paradise will get to check in on Caleb and Josh and their clan.
You can read Chapter 1 of Hello Forever HERE
Hello Forever
is easily read as a stand alone…. though if you read book 1
Goodbye Paradise
you will love the use of Joshua and Caleb as they play wonderfully into this story.
Hello Forever is the story of Axel Armitage and Caxton Williams.  Both characters are now men moving forward with their lives but years ago they were teenage boys punished for this young love. Axel and Cat were friends as boys and as teenagers that bond grew, a bond that hatred tore apart.  This second chance romance had me glued to my kindle, it pulled me in, kept me wanting to read and often had my mind drifting to the story when I had to put it down to you know… live life.
How these two end up back in each other's orbit was well done; and being witness to them re-connecting filled my heart with joy even as it broke my heart.  You see sometimes hate is so strong and surrounded by so much power that you can't just be you.  I fell in love with Axel more and more, his understanding of Cax's situation, the way he can't just come out made him a character I adored!
This element for a while had me thinking, wow, how are these two men going to find a happy and then, then WOW; I didn't see that coming or the happy they find.
I can not express to you how much I hated Cax's father; this man takes hate to a whole new level.
Axel's mom and the rest of Cax's family round out a cast that crafted a world that feels real!
Why these two can finally be open and together and the together they construct is likely not the forever the them at 20's something pictured for themselves but it so works for them!
I hope there is a book 3 in this series as Jason needs a happy and I also hope we get to visit with these amazing men; men who care deeply about each other and those around them (nope not telling read the book!).