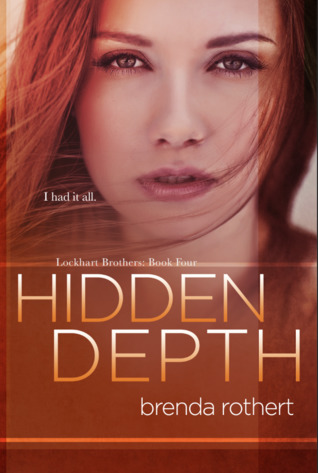 Hidden Depth

by Brenda Rothert
on April 25, 2017
Buy on Amazon, Buy on B&N, Buy on iTunes, Buy on Kobo
Goodreads


I had it all.
Breaking into the entertainment business as a teenager wasn't easy. I spent years of my childhood traveling, auditioning and hoping my big break would come. And when I did, I rose to a level I never imagined.
Elle Tyler: model, singer and actress. I couldn't go anywhere without security anymore. It was everything I ever wanted and more - fame, fortune and worldwide recognition. At age twenty-four, I was living a dream.
But a single act of violence shattered my fairytale existence. In a matter of seconds, all the goodness in me was ripped to shreds. Overnight, the people around me dropped away, moving on to find the next big thing. I gave up on myself, becoming a woman so dark and forlorn I no longer recognized myself.
But the stranger who saved me that day, Justin Lockhart, never gave up on me. He still saw light through my darkness. And as we grew closer, I started to see it, too. And I also started to see that before that terrible day, maybe I didn't really have it all. Maybe I was always missing the only thing that really matters.
Hidden Depth is the story of Elle Tyler and Justin Lockhart. Though this is book 4 in a family saga, it can very easily be read as a standalone as Justin is the youngest Lockhart and for most of the series is not seen as he does not live in town.
Wow…. the opening chapters of this book were painted with such vivid detail my heart was pounding and was then lodged in my throat.
Beyond just a riveting opening set of scenes, the author also did an amazing job at painting what Elle's life is currently like.
And Justin you will just want to hug him for so many reasons.
As the blurb mentions Elle suffers an act of violence. There was so much around this that was powerful. Ms. Rothert did an outstanding job with not just the physical part of this but the emotional aspects, and I love the nurse who pushed Elle; healing is journey and one Elle doesn't embark on alone.
Elle and Justin have an easy comfort the reader can feel, you will instantly be rooting for them. Witnessing their friendship build, being able to feel the sexual tension heighten—it all added to the story.
The return to Lovely, the small town the Lockhart family was from was well done and believable. I was engrossed in how Elle folds into the family and the town.
I don't want to give away too much but I will say the twist from Justin's past  was a nice, wow, didn't see that coming. I do wish there was more here, but what was highlighted was what an amazing man Justin is.
Since I did read the prior books I will say it was great to see the Lockhart men again. I loved seeing them with their families and I adored the use of Ivy; her past and who she is now was so perfectly woven into this story.
I throughly enjoy this book but in the end I couldn't help feeling that I wanted just a bit more… ok more than just a bit more.
Maybe the author will add one more book to this series.
Enjoy a sneak peek into the book below!

Justin
I blow out a breath of frustration, making a cloud of cold air form in front of my face. The line at Starbucks is already out the door. People have their red faces buried in their phones as they wait, unfazed.
Everything's more complicated in the city. I should be used to it by now, after eight years. I moved to St. Louis for college at Washington University, then went to law school here. Now I'm helping out a former professor with some research at his firm for a few months. But even after nearly a decade here, it doesn't feel like home.
Lovely is home. The small Missouri town where I grew up always feels familiar in a way nowhere else ever will. As soon as I finish this short-term job, I'm moving home to join the family firm.
Then I'll be able to walk into Gene's Diner and get a cup of coffee in less than half an hour. Gene and Margie would laugh me out of the place if I asked for a latte or a cappuccino. They only serve black coffee, "loaded or unloaded" as Margie likes to say to differentiate between regular and decaf.
I glance at my phone. It's already close to nine a.m. I'm going to be late for brunch with the partners at Egan, Cargill, and Thompson, the firm I'm interning at. Good thing I'm not looking to get permanently hired there.
Tom Cargill is the former professor I'm working for, and he's hinted around that they'll be making me an offer. He knows I've got a job lined up at home, but he says he has to at least try.
The coffee is for him, so I figure it's worth being late over. He's been good to me, both during school and since graduation. He got me a coveted internship clerking for a federal judge, so I owe him.
It takes another twenty minutes to get to the front of the line, and when I do, the barista gives me a friendly grin.
"Hey, Scott Eastwood," she says.
I come here to pick up coffee for Tom on my way in to the office most days, so the baristas know me. They all think I look like Scott Eastwood.
"Morning," I say to the barista.
"Usual?"
"Yep. Give him some extra whipped cream."
"You trying to get a raise?"
I smile. "No. He's not gonna get this drink much longer, so I figure I'll indulge him. His wife has him on some heart-healthy diet, so she told his secretary not to get him anything unhealthy. And I'm only working for him for the next few weeks, and then I'm moving back home."
"That's a shame." She looks down at my cup and then back at me, scrawling my name in black marker.
I move to the side to wait, and she meets my eyes again.
"Hey, how much like Scott Eastwood are you?" she asks. "Do you, like, smoke cigars?"
"Occasionally, when I'm with my brothers." I grin at the memory of Kyle's bachelor party.
"Oh, Lord. Brothers? How many of you are there?"
"Five."
With a wistful sigh, she turns to the next customer.
It takes another five minutes for another employee to hand me Tom's drink. When I look down at the cup and see that the barista wrote "Scott Eastwood" on it, I shake my head and smile.