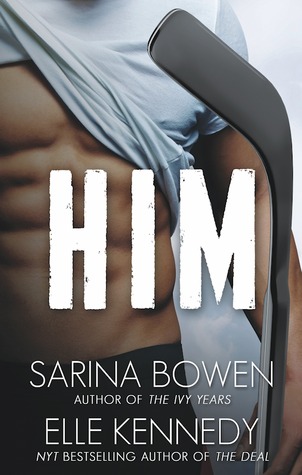 Him

by Sarina Bowen, Elle Kennedy
on July 28, 2015
Pages: 276
Buy on Amazon
Goodreads


They don't play for the same team. Or do they?

Jamie Canning has never been able to figure out how he lost his closest friend. Four years ago, his tattooed, wise-cracking, rule-breaking roommate cut him off without an explanation. So what if things got a little weird on the last night of hockey camp the summer they were eighteen? It was just a little drunken foolishness. Nobody died.

Ryan Wesley's biggest regret is coaxing his very straight friend into a bet that pushed the boundaries of their relationship. Now, with their college teams set to face off at the national championship, he'll finally get a chance to apologize. But all it takes is one look at his longtime crush, and the ache is stronger than ever.

Jamie has waited a long time for answers, but walks away with only more questions—can one night of sex ruin a friendship? If not, how about six more weeks of it? When Wesley turns up to coach alongside Jamie for one more hot summer at camp, Jamie has a few things to discover about his old friend...and a big one to learn about himself.

Warning: contains sexual situations, skinnydipping, shenanigans in an SUV and proof that coming out to your family on social media is a dicey proposition.
Confession….this one is hitting many on my list of  "Things I Love in a Book"….hockey, well written… two men.. and Lake Placid as the backdrop (one of my favorite towns).
I loved how this book opened…. Wes (Ryan Wesley) preparing for the Frozen Four (NCAA College hockey championships) watching game tape of a possible opponent during the tournament only to see he could face his ex-friend, Jamie Canning.  Ryan is a forward and Jamie is net-minder (goalie). I won't speak to how the Frozen Four unfolds but I loved how this was played out!
The "why" these men parted ways and the slow telling of their bond kept me glued to my kindle; the story was masterfully told in small snippets as each man remembers the last few hours they spent together. Yes, this book is dual POV.
This book offered so many make me smile lines!  A few like this one will make our Witty Wedensday posts!
"Really, dude? That was like two seconds. You have the stamina of a pre-teen."
The falling out that tore Jamie and Wes apart was something that for these young men had my heart breaking as one just didn't understand what went wrong and one blamed himself for pushing the other.  The authors managed to even handle that with some humor and fun.  They also manage to make the reader still love both men!
I remember feeling pretty damn smug about my choice of gifts—a package of Blow Pops. Because, well, how could I resist?
This is a friends to lovers story where you can feel the connection…
Our mouths fit together so perfectly. Every time we kiss, I fall even more in love with him, and it has nothing to do with sex or lust. It's him. His closeness and his scent and the way he soothes me.
I adored how when these men were apart each hurt and truly missed the presence of the other.  Wes' gesture, the simple ink he gets means so much. Truly well done!
Both men's families are addressed in this story. I loved the Canning family – big, funny and they loved Jamie to death! 
This line that had me chuckling:
OMG. Jamester, really? You did not just confess to dating a Patriots fan. That is a sin, little brother. I fear for your everlasting soul. 
When Wes and Jamie find their happy, that too had me grinning from ear to ear:
"Tonight, I want you in nothing but my Toronto jersey." 
Jamie sputters with laughter and gives my cheek a fake slap. 
"You ass. I'm not your puck bunny."
"Please? I've never fucked a puck bunny. This is my only chance."
The epilogue to this story truly pulled at my heart!
It was so well done and yes I do hope we get to see these two in the future. Maybe secondary characters in another hockey story because I truly do want to see Wes and Jamie living their hard fought happy! #loveislove