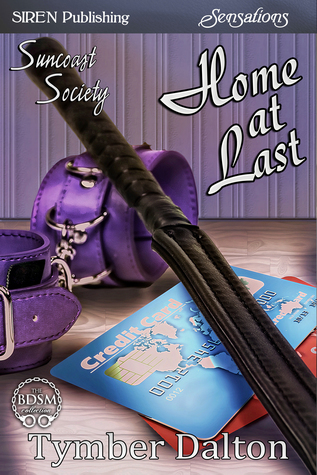 Home at Last

by Tymber Dalton
on December 5, 2016
Pages: 262
Buy on Amazon, Buy on iTunes, Buy on Kobo
Goodreads


Ben didn't know his Master and boyfriend would leave him homeless and in the lurch. Throw in identity theft, adding insult to injury. When his best friend and co-worker, Jake, invites him to move into his spare bedroom, it's the answer to a prayer. Ben knows Jake's straight, but it doesn't stop him fantasizing about the handsome Dom.

The last thing Jake wants is take advantage of Ben and come off looking like a douche. That's why, for now, he keeps his carefully guarded secret—that he's bi, not straight. Toss in a pair of homophobic parents, and keeping that fact quiet has made his life easier.

But as he realizes Ben is perfect for him, Jake's forced to confront the realities of life. The choice to be with Ben means facing down his parents and confronting darker, dangerous realities he never encountered before as a "straight" man. But can he admit his feelings before someone else steals Ben's heart?
Oh how I loved Home at Last by Tymber Dalton!
An amazing best friends to lovers true soul mates story!
I adore this series from Tymber Dalton, it allows me to pop in and out as the blurbs grab me! And man am I so glad I read this one. This gay romance story is about so much more than two men falling in love, it's about the value of friendship, it's about embracing the love that's in front of you and about living the life you choose to live, the one you feel will bring you true and pure happiness.
Ms. Dalton masterfully crafted a story that will have you believing best friends of 10 years Ben and Jake belong together as husband and husband as circumstances put them directly in each other's orbit or specifically their daily life morning and night.
The eb and flow these two men find, the way they complete each other and fill the void the other has is the stuff of forever love!
The moment Jake gets it, truly gets he is in love with Ben was explosive and powerful. It was true to character and made me want to grab him and say "finally, thank you for admitting your love!"
Oh and Ben's reaction to this moment had me even more in love with him.
This book is about adults, grown ups dealing with life, facing the challenges in front of them and the obstacles life places in their way; but this book didn't have drama for drama and never ever did I question the men's love or commitment to each other.
Ben and Jake have provided major book hangover and continue to run through my head hours after completing the story!