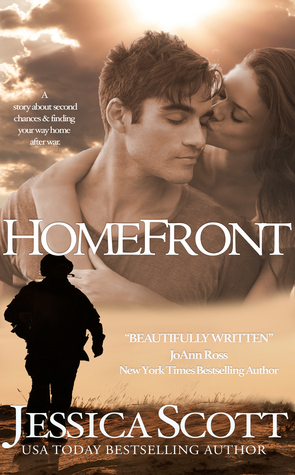 Homefront

by Jessica Scott
on April 7, 2015
Pages: 250
Buy on Amazon
Goodreads


He's always loved her...

First Sergeant Gale Sorren waited a war and half a lifetime for a chance to get stationed near the ex-wife who left him years ago. When he finally musters the courage to see her, the life he imagined she was living was nothing close to the reality.

She's never stopped loving him...

Melanie never stopped worrying about Gale each time he headed off to war. But he's never been there when she needed him and she's had fifteen years to steel her heart against him.

But when Gale moves to Fort Hood, he finally has a chance to make things right with Melanie and the daughter she raised without him.

Can Mel trust her heart to a man who has always let her down?

Books in the Homefront Series
Book 1: Homefront
Book 2: After the War
Book 3: Face the Fire

And don't miss the Coming Home Series
Book .5: I'll Be Home for Christmas
Book 1: Because of You
Book 1.5: Anything for You
Book 2: Back to You
Book 3: Until There Was You
Book 4: All for You
Book 5: It's Always Been You
Book 5.5: All I Want for Christmas Is You
This is a powerful second chance romance starring First Sergeant Gale Sorren and his ex-wife, Melanie. Yes, I said ex-wife!
This book is so much more than a second chance romance; it the rebuilding of a family. Yu see Gale (yes an unusual name for a man) and Mel have a daughter, a 15 year old daughter named Jamie.
Ms. Scott does a wonderful job at painting a portrait for the reader of a past gone wrong, of young love with all its naive notions and unsaid words creating a current day neither Gale nor Mel expected.
Gale's desire to take back what he wants; his desire to rebuild the relationships lost, truly pulled at my soul.
Gale is also a male who at times made me laugh This is part of one of my favorite scenes:
"What were you doing in my daughter's room?"

The kid sighed dramatically and looked out the window with a sulk…..

"Son, we can do this the easy way or the hard way. I've been to Iraq. There's no telling when my PTSD is going to act up."

"I'm not your son."

"No, you're not, because if you were my kid, you would have one color hair. Now what's your name?"

Another dramatic sigh that was like nails on a chalkboard for Gale's nerves. "Alex."

"What were you doing in my daughter's closet?"

Alex shot him a dirty look. "Filming a porno, gramps." ……… "You better pray for your immortal soul that you're joking."
This scene is not only an ear to ear grin kind and engaging, it also lays out the groundwork for the masterful way in which this story weaves this family back together.
Homefront is not about hearts and flowers, or dates and chocolate to make the pain of the past go away.  It is resolved around building a life together, working through deep seeded problems and deciding yes consciously deciding to be a family, to build a forever together!
The use of Jamie, the daughter, her struggles and the young man in her life created a plot the pulled Gale and Mel together and proved that these two are in it for the long haul.
Mel and Gale forming a true partnership, building their friendship and the embracing the love and connection that still exist made this a wonderful read!