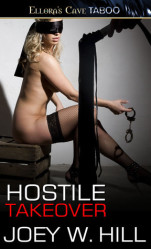 4 STARS!
Summary
Book V of the Knights of the Board Room series (can be read as standalone)
Ben is the last unattached member of the five-man executive team of K&A Associates. The other four, all Masters, have found the submissive of their dreams. That's fine. The sharp-edged lawyer knows he's the most hardcore of all of them, with extreme tastes as a Master he satisfies physically through experienced club submissives. He doesn't really need anything more than that.
Marcie has loved Ben since she was sixteen. He's never behaved as anything more than a protective big brother, a family friend. But now she's twenty three and starting her career as a corporate investigator. She may be a blood-and-bone deep submissive, but she won't hesitate to use her aggressive talents to prove she's meant to be his. With a Master as tough as Ben, she'll have to take whatever measures are needed—even if her deepest desire isn't a hostile takeover of his heart, but an unconditional surrender to it.
Reader Advisory: Marcie's sexual journey contains a group scene of female/female sexual exploration. The Masters also share her in a brief group scene.
Christine's Review
I received this ARC in exchange for an honest review. I didn't realize that this was a series so went back to the first to read it in order and am SO glad I did! What HOT men! I thought that the book was appropriately titled. Of all the books, this one was slightly more hardcore BDSM but it honestly did not bother me.
Ben is the last single guy in the 5 man executive board of K&A Associates. All of the other men have found their submissive while Ben is still unattached. Ben is the lawyer of the group and is the most hardcore of them all. Ben gets an intern and realizes that it is Marcie – Cassandra's 23 year old sister who he has known since she was a teenager. Marcie has always had a crush on Ben but it's very obvious from the start that she wants something more with him. Marcie plays games with him so that he notices her but in his mind, he struggles with seeing her as the little girl she once was, to now not wanting to admit that she may mean something more to him.
This installment in the series was my favorite of them all (next to Dana and Peter) because Ben came from the streets – his mother abandoned him when he was a child. Since Ben was a child, he thought he wasn't good enough for anyone. Marcie, at such a young age, knew from the start that he was a man of worth and worth fighting for. And she never compromised her beliefs. Even when people said how young she was, in her heart, she always knew that Ben was The One.
This book was dark but hot and real and sexy. Ben is possessive and tough on Marcie. But all throughout, I just wanted them to work. I literally felt her pain when he beats her. I thought I wouldn't like the BDSM aspect but I did. All Ben and Marcie wanted was to take care of each other and please each other.
I enjoyed Joey Hills' writing style. She pulled me into the story, I was emotionally connected to the characters and I was interested the entire time. With each book, I just wanted to know more and more. I loved how each character developed and grew. And the most important thing that I enjoyed was the honest love that came and was fulfilled for each character. Well done…I will definitely read more about this author. Her books and her characters are captivating!
About the Author:
I've always had an aversion to reading, watching or hearing interviews of favorite actors, authors, musicians, etc. because so often the real person doesn't measure up to the beauty of the art they produce. Their politics or religion are distasteful, or they're shallow and self-absorbed, a vacuous mop-head without a lick of sense. From then on, though I may appreciate their craft or art, it has somehow been tarnished.
Therefore, whenever I'm asked to provide personal information about myself for readers, a ball of anxiety forms in my stomach as I think: "Okay, the next couple of paragraphs can change forever the way someone views my stories." Why on earth does a reader want to know about me? It's the story that's important.
So here it is. I've been given more blessings in my life than any one person has a right to have. Despite that, I'm a Type A, borderline obsessive-compulsive paranoiac who worries I will never live up to expectations. I've got more phobias than anyone (including myself) has patience to read about. I can't stand talking on the phone, I dread social commitments, and the idea of living in monastic solitude with my husband and animals, books and writing is as close an idea to paradise as I can imagine. I love chocolate, but with that deeply ingrained, irrational female belief that weight equals worth, I manage to keep it down to a minor addiction. I adore good movies. I'm told I work too much. Every day is spent trying to get through the never ending "to do" list to snatch a few minutes to write.
Despite all these mediocre and typical qualities, for some miraculous reason, these wonderful characters well up out of my soul with stories to tell. When I manage to find enough time to write, sufficient enough that the precious "stillness" required rises up and calms all the competing voices in my head, I can step into their lives, hear what they are saying, what they're feeling, and put it down on paper. It's a magic beyond description, akin to truly believing my husband loves me, winning the trust of an animal who has known only fear or apathy, making a true connection with someone, or knowing for certain I've given a reader a moment of magic through those written words. It's a magic that reassures me there is Someone, far wiser than myself, who knows the permanent path to that garden of stillness, where there is only love, acceptance and a pen waiting for hours and hours of uninterrupted, blissful use.
If only I could finish that darned "to do" list.
For more information, visit her at http://www.storywitch.com
Fan Forum: www.jwhconnection.com
Facebook: http://www.facebook.com/samyoungscotland#!/JoeyWHillAuthor