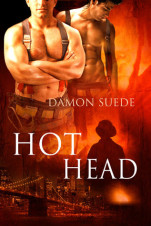 4 STARS!!!
Summary
Where there's smoke there's fire. . .
Since 9/11, Brooklyn firefighter Griff Muir has wrestled with impossible feelings for his best friend and partner at Ladder 181: Dante Anastagio. Unfortunately Dante is strictly a ladies' man and the FDNY isn't exactly gay-friendly. For 10 years, Griff has hidden his heart in a half-life of public heroics and private anguish.
Griff's caution and Dante's cockiness make them an unbeatable team. To protect his buddy, there's nothing Griff wouldn't do… until Dante is nearly bankrupt and proposes the worst possible solution: HotHead.com, a gay-porn website where uniformed hunks get down-n-dirty… Now Dante wants them to appear there— together.
Griff may have to guard his heart and live out his darkest fantasies on camera. Can he rescue the man he loves without wrecking their careers, their families, or their friendship?
Denise's Review
Hot Heads by Damon Suede is about Griffin Muir and Dante Anastagio, two New York City firefighters who have been friends since childhood.
The book is told from Griff's POV and opens with his memories of September 11th.  This imagery is powerful because you quickly feel how much Griff cares for Dante. As Griff replays in his head his search for Dante on that fateful day, you are instantly drawn into the story.  I am from New York and reading these scenes pulled me right back to that day. 
The book takes place 10 years after the tragedy of September 11th.  Mr. Suede slowly reveals to the reader the nature of Griffin's feelings for Dante.  Though it is not clear when Griff started to feel this deeply for Dante, Griff accepts his feelings and seems content that Dante is unattainable. 
The story builds as Dante who is in financial trouble finds a solution to his money trouble, the solution posing for a gay website called, HOTHEADS.com. Mr. Suede does a good job making the dialogue around this believable; he also uses it to introduce an interesting character, Alek, a Russian man who runs the site.   
As the story develops the author transforms Alek from what at first seems like a sleazy promoter to an honest and respectable businessman.  As the interaction between the men (Griff and Dante) develops, Alek "sees" the truth and his later conversations with Griff are really well done.
Griffin and Dante are opposites in background and looks well except for both being hot. Griff is stoic, steady, reliable, with fair skin and red hair while Dante is impulsive and cocky, with olive skin and black hair with dark eyes (eyes that Griff's description of the first time he finally gets to look closely into will warm your heart). 
Griff grew up with a single dad who has merely existed rather than lived since his wife died while Dante grew up in the heart of a very loving Italian family. A family that "adopts" Griff when he is teenager. 
I thoroughly enjoyed the use of Dante's family, the Anastagio family is big and loud.  Dante's parents, sister and niece make for some very well written scenes.  The niece Nicole, takes to calling Griff, "monster" due to his size and it makes you smile each time she says it.  
Dante's family truly welcomes Griff with open arms, when the men open up about their new revelations about each other, Dante's parents offer love back.  The emotions were raw, and beautiful. Dante going to his Dad was unexpected and truly beautiful to watch unfold.  Mrs. Anastagio's presence at the end of the book in an interaction with Griff is so heartwarming; you may find a tear running down your cheek. 
Mr. Suede also builds a nice secondary character named Tommy, a paramedic from the firehouse.  He uses Tommy to show the hatred and bias homosexual men often face.  Tommy continues to appear thoughout the book and in the end the men help Tommy move forward and Tommy allows Griff and Dante to be themselves. 
Toward the end of the book there is a scene at a bar when a man buys Tommy a beer and the bartender tells him why, well let's just say you may get lump in your throat.
There are a few scene toward the end of the book with Beth a photographer that are almost laugh out loud and hot as hell.  I won't spoil any of this for the readers except to say these scenes were used really well, they helped the men come to terms with their relationship and really seemed to help Griff get comfortable in his own skin. Dante always knew he was hot 😉 
I have to say, I loved the dialogue and banter between Griffin and Dante, it felt very authentic, their nicknames for each other were adorable, many times calling each other "G" and "D",  Griff also calls Dante, "Anastagio" or "Midget" (Dante is 5′ 11″ but Griff is 6'6″) and although toward the end they do call each other "Babe" it never gets to flowery.  The reader is allowed to adore these two hot, big handsome men as men.  
The reason I gave this book 4 stars and not 5 stars was due to some minor issues I had with the book, one I thought it could have been edited better, there is a lot, a lot, of slang used in the book, some terms I was not familiar with, from the sentence you can figure out the context but it took away from the read.
My other issue and the bigger reason I could not give it 5 stars was the ending, it was a happy ending and although it did leave me feeling like these two would be together, I was left desperately wanting more.  It took these two almost the whole book to get together, you only get to enjoy them together for a few chapters and you are left with many unaddressed issues. 
Mr. Suede does make it clear there will be issues at work, issues with Griff's Dad and maybe even issues with one of Dante's brothers but these issues are not addressed. 
As I said the story was built is a way that did make me feel these two will weather the storm but I wanted to see them weather the storm together.  Also at one point Griff's internal monologue speaks of wanting a family but this is not addressed either. All of this could have been accomplished with an epilogue a few years out.  
Maybe the author will write another book for this series, one about another character in the book with the boys in the background, I would love to see them building and living their "happy" together. 
Damon Suede has written an exceptionally good book, a book that takes its time to build the story and that allows the reader to fall in love with Dante through Griff eyes. You so want these men to "find each other" before they ever even touch each other.
I did truly enjoy the use of New York City – it was really well done and almost felt like another character in the book.  I loved the way the author intertwined September 11th, it felt real, intense and necessary given that these men are New York City firefighters. 
Hot Head provides drama, action, (yes, you get to witness the firehouse in action) heartfelt romance, steamy sex and family (as outlines above).  It's a beautiful and unforgettable story about two endearing men and unconditional love! 
*A copy was kindly provided by the author in exchange for an honest review*
About the Author
Damon Suede grew up out-n-proud deep in the anus of right-wing America, and escaped as soon as it was legal. He has lived all over: Houston, New York, London, Prague, with a few long stretches in New Orleans and Vienna. Along the way, he's earned his crust as a model, a messenger, a promoter, a programmer, a sculptor, a singer, a stripper, a bookkeeper, a bartender, a techie, a teacher, a director… but writing has ever been his bread and butter. He has been happily partnered for nearly a decade with the most loving, handsome, shrewd, hilarious, noble man to walk this planet.
Damon's first novel was published by Dreamspinner Press in June 2011. Though new to M/M, he is an award-winning author who has been writing for print, stage, and screen for two decades, which is both more and less glamorous than you might imagine. He's won some awards, but his blessings are more numerous: his amazing friends, his demented family, his beautiful husband, his loyal fans, and his silly, stern, seductive Muse who keeps whispering in his ear, year after year.
Cravings: sweetness that isn't sentimental, wit that isn't bitter, strength that isn't cruel. Loathings: professional victims, half-assery, clichés. Damon is a proud member of the Romance Writers of America and the Rainbow Romance Writers. He would love to hear from you…
Website http://www.damonsuede.com/
Facebook http://www.facebook.com/damon.suede.1
Goodreads http://www.goodreads.com/author/show/4656955.Damon_Suede