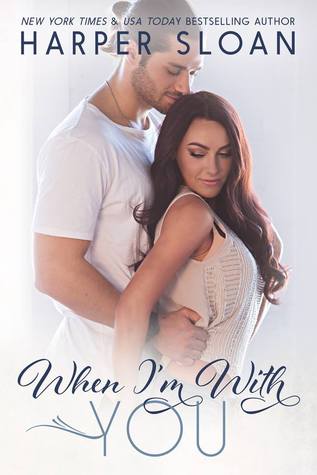 When I'm With You

by Harper Sloan
on April 26, 2016
Pages: 262
Buy on Amazon
Goodreads


Nate:

It's nearly impossible to be surrounded by love but not understand it. My parents, my sister, and just about everyone around us has no trouble accepting that love. To give your trust to someone else and believe they would die before hurting you. I've witnessed it—I've seen the power of it—but I've also seen the pain. Because for me, I've only loved someone I could never have, and my biggest fear is that by giving her my love, all I would do is ruin her. I should have tried harder, but I'm not sure I can because I only feel complete when I'm with her.

Emberlyn:

The only time I feel like I belong is when he's near. His infectious smile warms me straight to my bones. Any insecurities I have vanish with just a wink from him. A sliver of his attention makes me feel invincible. But all it took was one drunken night of truths for me to lose everything I had begun to crave. Now, I'm not sure how to move on because I only feel complete when I'm with him.

He said I was too young. I said he was perfect. He said our families wouldn't understand. I said we could weather any storm. He said he would ruin me. And he was right.
The Hope Town series has become another favorite series of mine.
When I'm With You is the story of Nate  Reid and Ember Locke; this is book 3 in the Hope Town series. A series that follows the children of couples from Ms. Sloan's Corps Security series.  You do not have to read the prior series to love this one; to non Corps Security readers, the parents will be just that…parents.
Now for those who have read the prior series, you get a wonderful visit with friends; you get to see the Hope Town couples you have grown to love living out their happy trying to guide the next generation, making this story even more powerful.
I was fortunate enough to have this book hit my kindle as I was waiting to board a plane with my husband (see photo) so I was able to read this book straight through, something given our blog name you can tell is very rare!
I became so engrossed in Nate and Ember's journey.  The story starts out with Ember a bit younger and moves forward to a place where Ember is more comfortable in her skin and Nate is moving forward with his life, both his career and finally open to listening to his heart. I won't tell you how or why because learning about the business Nate is building was so fun to experience unfold.
When this one first opened, I wanted to strangle Nate but within a few short chapters I was adoring him:
"I pushed her away because not only was she too f*cking young, but also because I wasn't ready to see what was right in front of my face." 
"And now?"
"And now, I'm not just ready to see it, I want it more than I want my next f*cking breath."
Nate becomes the kind of hero that stole my heart; he went after what he wanted; he was honest and passionate.  Nate's heart to heart with Locke, Ember's dad, was the kind of dialogue that will make your heart melt and fill it with hope!
This book has so much engaging dialogue. There is a scene with Nate and his dad Axel that had me laughing out loud on a plane, yes my hubby gave me a sideways glance. So fun!
I also loved Nate's ambition, his desire to build a company; one he is passionate and proud of!
In the end, the happy Nate and Ember find was perfect for them; it happened at the right time in their lives and the author makes it clear they are true soulmates:
"My Ember. I'm never letting go. Not now. Not ever." 
The end of this book kept me smiling from ear to ear for sometime after putting it down… Ms. Sloan wrapped the happy up in layers; layers that warmed my heart and soul.
♥ Read this Series ♥
Book 1 – Unexpected Fate
Book 2 – Bleeding Heart
Book 3 – When I'm With You