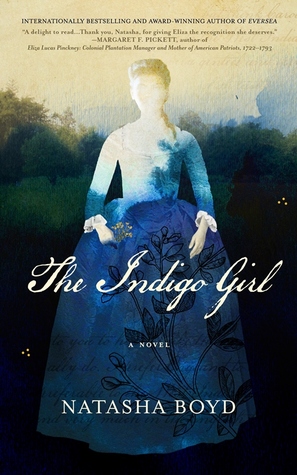 The Indigo Girl

by Natasha Boyd
on October 3, 2017
Pages: 346
Buy on Amazon, Buy on B&N, Buy on iTunes, Buy on Kobo
Goodreads


An incredible story of dangerous and hidden friendships, ambition, betrayal, and sacrifice.

The year is 1739. Eliza Lucas is sixteen years old when her father leaves her in charge of their family's three plantations in rural South Carolina and then proceeds to bleed the estates dry in pursuit of his military ambitions. Tensions with the British, and with the Spanish in Florida, just a short way down the coast, are rising, and slaves are starting to become restless. Her mother wants nothing more than for their South Carolina endeavor to fail so they can go back to England. Soon her family is in danger of losing everything.

Upon hearing how much the French pay for indigo dye, Eliza believes it's the key to their salvation. But everyone tells her it's impossible, and no one will share the secret to making it. Thwarted at nearly every turn, even by her own family, Eliza finds that her only allies are an aging horticulturalist, an older and married gentleman lawyer, and a slave with whom she strikes a dangerous deal: teach her the intricate thousand-year-old secret process of making indigo dye and in return -- against the laws of the day -- she will teach the slaves to read.

So begins an incredible story of love, dangerous and hidden friendships, ambition, betrayal, and sacrifice.

Based on historical documents, including Eliza's letters, this is a historical fiction account of how a teenage girl produced indigo dye, which became one of the largest exports out of South Carolina, an export that laid the foundation for the incredible wealth of several Southern families who still live on today. Although largely overlooked by historians, the accomplishments of Eliza Lucas influenced the course of US history. When she passed away in 1793, President George Washington served as a pallbearer at her funeral.

This book is set between 1739 and 1744, with romance, intrigue, forbidden friendships, and political and financial threats weaving together to form the story of a remarkable young woman whose actions were before their time: the story of the indigo girl.
I'm glad that I stuck through reading The Indigo Girl. It was very hard for me to get into the first 25-30% because the story moved rather slowly. What kept me going was knowing that this was based on real life letters from a girl named Eliza whose father left her and her family to fight in the war.
Once you pass this hump, the story flies as Boyd takes us on a journey of a sixteen-year-old girl with such fierce drive to prove that she can do what any boy or man can do in this time period—be successful in running her family's plantations while attempting to produce indigo dye—something not done in rural South Carolina before.
I enjoyed living Eliza's life and seeing her independence and strength of character but most of all seeing how smart and passionate she was to protect her family from losing everything they had worked so hard for. I loved her heart and her protectiveness of the people she loves especially in a time when slavery was so predominant, her heart and love for her people emitted from the pages.
I would have loved to see more in regards to her forbidden friendship with Ben and even a peek into what life was like after the ending because while I knew going in that this was not a romance story, the little sneak peeks into the potential of what was shown to us really made my heart happy. I would have liked to spend more time with them.
With every book, you have your set of antagonists and boy, did I really dislike those… I don't want to elaborate any more on this because I think it's so important to see for yourself how the story and the characters unfold. But a couple of them really made my blood boil!
Overall, I enjoyed The Indigo Girl a lot. It was a little slow moving at first but I enjoyed the overall message and theme. Most of all that it is different from the sea of books that are so similar. Knowing that this young girl had the gumption to push forward with her beliefs and who in the end is a big part of history made this story even more powerful because who doesn't love reading about a strong woman who stands up for what she believes in. <3