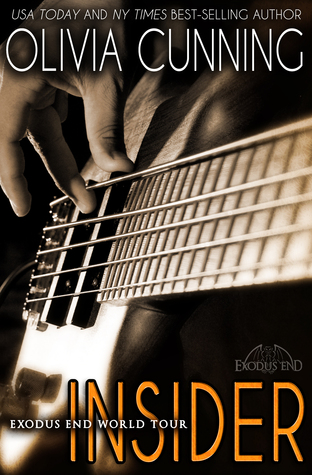 Insider

by Olivia Cunning
on June 30, 2015
Buy on Amazon
Goodreads


The first book is not about Dare. It's about the band's bassist, Logan, and is entitled Insider. Yes, Dare will get his own book, as will all four members of the band.

She thought she was ready to rock...
Toni Nichols put her aspirations on hold while she raised her little sister, but now she's reaching for the stars and living her dreams as the creator of a revolutionary interactive biography about the rock band Exodus End. Creating the book requires her to go on tour and immerse herself in the band's world as an insider, but can she gain the trust of four veteran superstars who've been burned by the media before? Or will her dreams crumble at her feet?

He's always ready to roll
Logan Schmidt was born an adrenaline junkie. He lives for the rush he gets from playing his bass guitar before thousands of fans. When he's not performing on stage or in the bedroom, he's looking for his next endorphin high in extreme sports. So what is it about the sweet and innocent journalist on their world tour that gets his heart pumping and captures his full attention? Is she the real deal or is she posing at being his perfect woman to get inside secrets on Exodus End?

They're both ready to experiment
Though Toni was innocent the first time she climbed the bus steps, that didn't last long once Logan set his sights on her. He's so much more worldly than she is and she's ready to learn how to please a lover and explore all the ways she can be pleased. Logan can't believe his luck. Toni's a phenomenal woman and she wants him to teach her how to rock and roll in the sack? Not exactly a burdensome task. Until she starts to get too close to his heart and takes her insider look to a place he never anticipated.
Insider is book 1 in a new spin-off series by Olivia Cunning. This series is a spinoff on her Sinners on Tour series, a series we loved! If you haven't read this series I highly recommend you 1-click the box set http://amzn.to/1IHtomc Trey Miller from the Sinner's band older brother Dare is a member of Exodus Eden, we meet him and the band in the Sinner series.
In Insider, Exodus Eden takes center stage though I had hoped book 1 would be about Dare or the newest member Reagan. In Insider, Ms. Cunning takes us inside the mind of Logan, Exodus End's bassist.
Insider had Toni Nichols throw into the chaos of Exodus Eden's world tour as she is set to be the creator of a revolutionary interactive biography about the rock band. Toni is very naive (yes to the point of annoying) but she does a wonderful job at getting the band to open up so as a book 1 in the series, it was a wonderful way for the reader to get to know the band and their history.
A few places inside the book we get glimpses of Toni's journey, given her occupation, this felt true to her career and its tie into the betrayal at the end of the book worked well.
I loved the gym scene, it was funny and witty and a great look at the members of Sinner and Exodus Eden… yes I still love the men of Sinners and it was great to see Brian and Trey laughing together again!
As you can likely tell, this book did a wonderful job at developing a world that will pull you in – the use of Toni's youngest sister Birdie pulled at my heart strings many times during this book.
The struggle I had with this book was the heroine. I just never connected with Toni.  I did feel Logan's connection to her but I still don't think I was able to find myself rooting for her, if that makes sense.
Insider did make me want Reagan's story even more as well as Dare's and  I so want to know about Steve, the drummer in Exodus Eden and fingers crossed the rumors are TRUE because I would love to see Ms. Cunning write in that genre!
Despite my issues with Toni, this is a must read series for me as Ms. Cunning did an amazing job at teasing just enough for a story for each band member and did a fabulous job crafting unique characters that I am dying to watch fall in love!