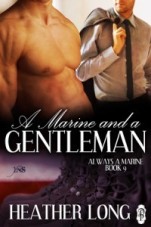 Leave a comment on our facebook page or following this post to win an ebook copy of book 1 in this series, Once Her Man, Always Her Man.  Winner to be selected tonight.  Good luck!
---
4 STARS!!!
Summary
Lieutenant Brenden Fitzpatrick is a dedicated Marine, loyal son, and devoted uncle but he's lonely. When he went Marine, the rule was don't ask, don't tell. His brothers-in-arms pretty much didn't ask and didn't care. Watching so many friends settle into long-term relationships highlighted the absence of someone to come home to in his life. When his unit encourages him to give the 1Night Stand service a try, he asks for the impossible—a night with the one man he almost gave up the Marines for in the first place. A man he called best friend but let time and distance carry away.
Liam Gardiner grew up on the same Boston block as his best friend, Brenden. Unlike Brenden, Liam always accepted that he was gay—a fact he didn't mind flaunting to all the bullies and naysayers in school. It got his ass kicked more than once but Brenden always had his back, rescuing him time and time again, until the day Brenden left for the Marines. He missed his buddy—the crush he never confessed, lest it cost him the precious friendship—so when Madame Eve's invitation arrived to meet Brenden, Liam faces uncertainty for the first time.
Denise's Review
This book is part of a series but it can be read as a standalone.   I read it standalone and it was an enjoyable read
Lieutenant Brenden Fitzpatrick comes from a family of marines, a man who knew from a very early age that the marines were his destiny; which meant that being openly gay was not an option.
Brenden's unit encourages him to give the Madame Eve 1Night Stand service a try, so Brenden asks for the impossible, a night with the one man he never forgot about, his best friend from high school, Liam Gardiner.
Liam was openly gay when they were in high school; Brenden held their friendship close to his heart, he defended Liam when he was bullied but never let his friend know his true feelings.
When these two meet you can feel the tension.  Liam pulls no punches and even borders on being hostile about why Brenden was not open with him all those years ago.  Brenden is very open about why he made the choices he did and your heart breaks for the choices he had to make. As these two open up you can feel the tension melt away. Watching these two men re-connect was engaging and the chemistry between them is tangible.
For those readers who enjoy a good M/M read, the night that follows is steamy layered with emotions that these two have hidden for so long.
I truly enjoyed this story.  Ms. Long did a wonderful job with this short story. This was my first Heather Long book but it will not be my last.
I am looking forward to reading Retreat Hell and No Regrets, No Surrender two books that tell a ménage story of characters mentioned in this book.
1Night Stand is a series of books put out by Decadent Publishing.
Interview with Heather by Heather B from Decadent Publishing
Hi Heather.

I'm happy to be interviewing you for Shh, Mom's Reading. http://shhmomsreading.com/
I love the name of that blog, don't you? I can definitely relate!

Ditto! Fortunately my Mini Me loves to read, too!

Your 'Always a Marine' series is really gaining popularity. What is it about smokin' hot, capable, protective, testosterone-laden Marines that you find interesting to write about?

Hey some of my Marines are estrogen-heavy, too. But truthfully, these are men and women who willingly enlist, train, and deploy to some of the unfriendliest places in the world—put their lives on the line—and then want to go back and do it again.  At their core, they are still people—they have fears, flaws, and imperfections, but they are also passionate, loyal and devoted. What isn't interesting about the two of them?

What kind of man is your favorite–the one in jeans who is good with his hands and can fix your carburetor or the one who looks amazing in a suit and tie while wheeling and dealing in the office?

I love the man who puts his family first—who puts his friendships ahead of personal advancement and knows success is not defined by possessions, but by the people in your life, and the value you place on them. That said, a good pair of jeans and a fantastic work ethic can do wonders for me.

Personal question–you've been on a weight loss bender and you've done AMAZINGLY well in the last several months.
Advice for the wicked?

Pay attention to what you eat and when you eat it. I used to never eat breakfast. In fact, I often didn't eat until eight to ten hours after I was up. This puts a body in starvation mode and your body is pre-programmed to horde calories.  So I eat within an hour of getting up and have a 90 to 110 calorie meal every three hours. I cut out sugars—which amazingly wasn't hard and I drink more water. I used Medifast which helped, but I've learned so much in the last 9 months about eating and choices and lost 80 pounds along the way.

As your publisher and a fan of your writing, I would be ever so happy to see your Marines series on HBO as a series.
Dream cast–which of your men would Chris Hemsworth play? Who else would you want in the cast?

Hmmm…I think Chris would make a great Zach. He's got the right twinkle in his eyes. I would definitely want Stephen Amell for Brody. Not sure about the rest—but boy wouldn't casting be fun!

Because I can (I am writing this interview, after all!), I will ask you the hard questions here.
What do you LOVE about Decadent Publishing and why did you choose to submit to us?

You support my Marines and indulge my wild ideas when I have them. Seriously, Rebecca Royce encouraged me to write a 1Night Stand and after writing Once Her Man, Always Her Man over Thanksgiving Weekend in 2011 and submitting it—I had a response from Valerie Mann in thirty-three minutes. She's been one of my biggest—if not the biggest—cheerleader for this series since. I have a real partnership with her author to editor and the Decadent family overall is amazing in their support.  It helps that the owners are cool and one has the best name on the planet. wink
About the Author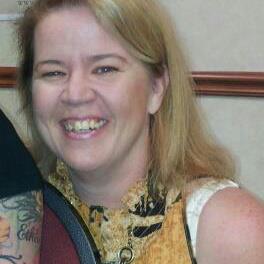 Heather Long lives in North Texas with her family and their menagerie of animals. As a child, Heather skipped picture books and enjoyed the Harlequin romance novels by Penny Jordan and Nora Roberts that her grandmother read to her. Heather believes that laughter is as important to life as breathing and that the Easter Bunny, the Tooth Fairy and Santa Claus are very real. In the meanwhile, she is hard at work on her next novel.
Twitter  http://www.twitter.com/HVLong
Website http://heatherlong.net
Facebook http://www.facebook.com/home.php#!/HeatherLongAuthor?fref=ts
Goodreads  http://www.goodreads.com/author/show/2959976.Heather_Long