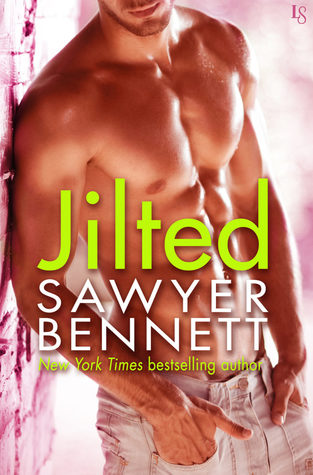 Jilted

by Sawyer Bennett
on July 11, 2017
Buy on Amazon, Buy on B&N, Buy on iTunes, Buy on Kobo
Goodreads


Sawyer Bennett's brand new series of standalone romances! LOVE HURTS!

Hollywood hath no fury like a woman scorned. In this fun, flirty second-chance romance from New York Times bestselling author Sawyer Bennett, an aspiring starlet reconnects with her first love.

Eden Goodnight went to Los Angeles to make it big, not to be publicly humiliated by her cheating fiancé at a red-carpet premiere. But when Eden returns to her hometown to put the scandal behind her, she can barely find a sympathetic shoulder to cry on. Turns out the locals are worse than the paparazzi, and they all think she's turned into a spoiled brat. But in a strange twist of fate, the one person who seems to understand what Eden's going through is Cooper Mayfield . . . the boy she left behind.

Small-town charm is no match for the glitz and glamour of Hollywood. At least that's what Coop's been telling himself all these years. As Eden's old flame—and the landscaper for her family's historic home—Coop feels some responsibility for getting her out of her funk. But as soon as he sees that million-dollar smile, he's a goner. Soon they're making out like teenagers again. But when a life-changing role falls into Eden's lap, Coop just hopes she doesn't give up on a love that's meant to be.
From the moment I picked up Jilted, I was pulled into the story of Eden Goodnight's life. Jilted is a beautiful second chance romance. After being humiliated in public fashion Eden returns to her hometown, a small town where her first love Cooper "Coop" Mayfield still resides.
I loved that this book was a straight-up love story; the author provides the reader with a beautifully crafted world one that had me thinking Eden and Coop were real and the town of Newberry, Georgia is a real place.
The author did an amazing job at providing the reason these two broke-up as teenagers, giving enough backstory so the reader understands why Eden and Coop separated when they did.
The story then gives the reader a deeper understanding of how both Eden and Coop have changed and why, why now is when they were destined to be together. Eden and Coop get to know each again both in and out of the bedroom. I should add these two rediscovering each other in the bedroom was hot and truly enjoyable to read. I mean think about the lover you were at at 18 vs. 14 years later!
I really don't want to give a way the plot, but I will say I loved how Eden's past specifically her grandma's plans played into how Coop and Eden are forced into each other orbits and I adored the glimpse into how the life of a highly successful professional can sometimes spiral into something you never imagine, something that might not reflect who you want to be as a person.
The epilogue of this story melted my heart and put a giant smile on my face!
Thank you, Ms. Bennett for this truly enjoyable second chance romance about adults!
It should be noted that this book is completely a stand alone though listed as a book 2 in a series—the characters are not related to those in book 1.