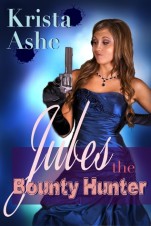 3.5 STARS!!!
Summary
High-speed car chases, hiding out in overgrown bushes, nabbing the bad guy—all in a days work for Julianne aka Jules St. James. Sure growing up with a bounty hunter for a father was a little unorthodox, but she wouldn't have it any other way. After all, how many sixteen-year-old girls can take a man down with her bare hands, fire an assault rifle, or become a chameleon by using fake identities to nab bail jumpers? On her father's Texas ranch, she's just one of the guys with her older, twin brothers, Remington and Colt.
So when Jules's father insists she spend the summer with her absentee mother—a former Savannah debutant and current member of high society, she is more than a little pissed off. Jules has had little use for her mother since she blew out of town six years ago to trade garden parties and black tie affairs for being a bounty hunter's wife. A summer in Savannah with Mommie Dearest means having refinement and culture shoved down her throat while styling the latest haute couture fashion.
But Jules's father has another reason behind sending her to Savannah. The society family of Emmett Marshall, a white-collar bail jumper resides there. The mission is for Jules to get close to Marshall's teenage son, Jackson, thus trying to unravel any clues about his father's whereabouts. Locating Marshall could mean a hefty payoff —enough for Jules's freshman year of college.
Since she's better at taking down a guy than hooking up with one, Jules feels like she's in over her head. Enter Wyatt Deluca. Working for Jules's bounty hunting cousin, Wyatt's suave services are enlisted to help her reel Jackson in. The tattooed, motorcycle riding bad boy is a 180 from sweet, cultured Jackson, but the more that Jules hangs around with Wyatt, the more confused she is about her true feelings and her ability to do her job.
Christine's Review
What a fun quick read from Krista Ashe (aka Katie Ashley). 
Jules St. James is a 16 year old girl working with her father and her twin older brothers as a bounty hunter.  She is strong and independent but unlike other teenage girls, likes to chase after bail jumpers.  She is definitely one of the guys.
Her dad takes on an assignment where she will have to go and stay with her southern belle of a mother in Savannah GA and do undercover work among the high society, snobby debutantes and their families where presentation and perception is everything.
Jules' mission is to get close to Jackson Marshall, who also happens to be her cousin Bryn's boyfriend, to try to locate his father, Emmett, a high profile, rich bail jumper.  I instantly liked Jackson – I felt bad for him that he was Bryn's boyfriend because she seemed like such a bitch!  Though you do see a different side of her when she is with him – I couldn't figure out if it was real or not (I was leaning towards NOT!).  Jackson seems perfect and he enjoys hanging out with Jules who is not the typical girl and actually enjoys having fun and getting her hair wet!
Jules' goes on a "hang out" with Jackson and while she is on this almost date, Wyatt is in her ear (on an ear piece listening device) giving her pointers on how to act like a girl.  Wyatt is the son of the receptionist at the local town bounty hunter office.  When we first meet Wyatt, he is cocky and conceited, he drives a motorcycle…oh and he has a tongue ring!  Jules' is not instantly attracted to him though you can tell that he is attracted to her and he feels that she is out of his league.  But Jules starts to see another side of him when they are doing recon work for her mission and she realizes that he does have a good heart. 
So how will this end?  Will Jules do what she was trained by her father to do and bring in the bail jumper, who is also the father of her friend?  Will she choose the perfect guy or the bad boy?
This was really an entertaining and suspenseful YA read!  It reminded me of a young Stephanie Plum by Janet Evanovich who I also love!  I hope that there will be more in this series as it would be interesting to see how Jules grows and matures and how her relationship with her mother improves and what becomes of her and the guy she chooses.  I definitely recommend this to young girls who are looking for a story that is fast paced, exciting with humor and your ordinary teenage girl drama!
About the Author
I'm the YA author of The Testament Series, coming 2014 from Pendrell Publishing.
I'm also the author of The Guardians, Nets and Lies, and Don't Hate the Player…Hate the Game. I also wrote the Southern Literary Fiction, The Road to Damascus.
In the adult romance world, I'm Katie Ashley, the New York Times Bestselling author of The Proposition.
Website https://twitter.com/KristaAshe
Goodreads http://www.goodreads.com/author/show/6644296.Krista_Ashe