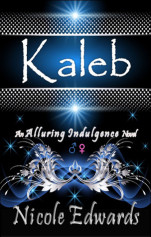 Leave a comment on our Facebook page under this post or on our website – What were you most shocked about that you really enjoyed reading in a book?  TWO winners will be picked tonight at 10pm for an ebook copy of Kaleb!  Good Luck!
 
 
 

4 STARS!!!
Summary
Zoey Stranford might've had a crush on the sexy boy next door since middle school, but she's a woman now, and that crush has turned into a full blown case of lust. So why is it that at twenty nine, her libido decides to ramp into high gear and the only thing she can focus on is the intensely sexy, scorching hot boy next door who is definitely not a boy anymore?
The only problem is that Zoey and Kaleb have been best friends for as long as she can remember. Not to mention, Kaleb and his brothers are working on buying Stranford land to build a new resort, and she's more than a little hesitant about his intentions.
Kaleb Walker has had his eye on Zoey for close to twenty years, but never before has he considered taking their friendship to the next level, no matter how many fantasies he's had about her over the years. That doesn't explain why Kaleb is hell bent on having her – in as many ways as possible.
Kaleb finds himself in a precarious situation. His brothers have nominated him to pursue Zoey's father about purchasing the land needed to get their new resort off the ground. Finding out that Carl Stranford is on the brink of foreclosure and Zoey might just lose her house and the land, Kaleb now has to convince her to put aside her pride and let him help her.
It doesn't take long before the flames start burning bright and hot, and the two of them burn up the nights and the days as they explore each other's forbidden fantasies. But can their friendship survive a business transaction or the new friends with benefits clause? Or will they realize that they've been overlooking something much deeper that's been right in front of them all along?
Warning: This book contains sexual encounters and graphic language that some readers may find objectionable, including, but not limited to m/f/m encounters, anal sex, exhibitionism, and voyeurism. Consider yourself warned! Contains graphic material that is not suitable for anyone under the age of 18.
Erotic Romance
Mature Audience
Denise's Review
This was my first Nicole Edwards book and it will not be my last.
Zoey Stranford and Kaleb Walker have known each other since middle school.  They have been through ups and downs together; always there for each other as best friends.
These two adults find themselves looking at what is right in front of them, an attraction to each other that those around them have seen for years. As Kaleb and Zoey finally give into their attraction, it is complicated by the fact that Kaleb and his brothers need to purchase Zoey's father's land to build a resort.
I truly enjoyed the connection Zoey and Kaleb shared, the use of secondary characters make it clear that these two truly care about each other is well done.  You could feel the trust Zoey had for Kaleb (oh yes and he uses this trust a few times to open her up to her fantasies – one she thought she would never admit to having)!
Kaleb is one of 7 Walker brothers.  I was truly impressed that Ms. Edwards set each brother apart; throughout the story she made their bond clear and did a really good job reminding the reader of their birth order.  And yes ladies all 7 men are worthy of attention and the author is planning a book for each.
As Zoey and Kaleb allow themselves a physical connection, Kaleb pushes Zoey's fantasies, so yes this book is hot, as in threesome hot, so please be sure this is your thing before you start to read it.  Ms Edwards uses this scene to illustrate the difference between the physical and emotion connections lovers can feel.
As their relationship continues to move forward, the business of the resort being built by the Walker Brothers becomes paramount.
It was so nice to read about mature adults, with careers and homes and lives; adding love to that – even true love can get complicated….The question becomes can Zoey and Kaleb mix Love and Business? 
Nicole did a wonderful job weaving in a scene with the characters from her other series, Destiny Club; because of that my next read is book 1 of the Destiny Club series, Conviction!
Nicole left me looking forward to knowing more about the Walker Family.  I am on the edge of my seat for the next book… no I will NOT tell you which Walker man is next; you have to read KALEB to find out!
I am very much looking forward to reading about each Walker Men! 
Kaleb Inspiration
Music Inspiration
Church Pew or Bar Stool – Jason Aldean
She's Country – Jason Aldean
You're The Love I Wanna Be In – Jason Aldean
Staring at the Sun – Jason Aldean
Colder Weather – Zac Brown Band
Good Girl – Carrie Underwood
Better Dig Two – The Band Perry
About the Author
Nicole lives in Central Texas with her husband, kids and her two dogs. Although she has been writing since a very young age, she has recently ventured into the full time world of writing and is loving every second of it. She is the author of the Club Destiny series and working on more projects at this time.
Twitter NicoleEAuthor
Website http://nicedwardsauthor.com/
Facebook http://www.facebook.com/pages/Nicole-Edwards/501722859851600?fref=ts
Goodreads http://www.goodreads.com/Nicole_Edwards