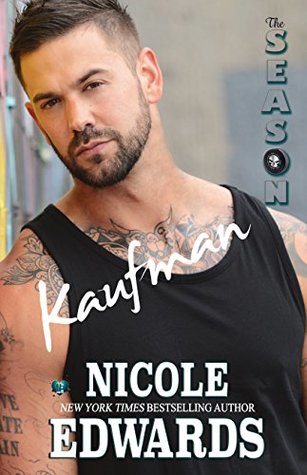 Kaufman: The Season

by Nicole Edwards
on October 25, 2016
Pages: 433
Buy on Amazon, Buy on B&N, Buy on iTunes, Buy on Kobo
Goodreads


Spencer Kaufman

When I signed on to the NHL, I promised to give 150% to the game. I've done that.

Little did I know, but they would ask more from me than merely my skill on the ice. The team wanted me to be their captain. It's an honor, one I've done my best to fulfill. Although I can't take all the credit, I was there to lead when we won the Stanley Cup.

I'm still at the helm now, when we've hit rock bottom. I know I have let my fears get in the way. I've let down the team, even if they don't realize what I've done.

Now that the new season's underway, I'm being called out. I deserve it. I can deal with that. It won't be easy, but I'll persevere.

What I can't deal with is her.
She surprised me.
She came out of nowhere and blindsided me.

And there's one serious issue.

Now that I have her, I refuse to let her go.

*This is a full-length, standalone novel. It is part of the Austin Arrows series, but can be read independently.
I loved Kaufman!
If you are reading this review and have not read book 1 Rush, stop reading this review and go 1click it HERE. Rush for me was a 5 star read that introduces a new cast of characters that kept me engaged, entertained, and wanting more.
While reading Kaufman I couldn't help but think that this series would make an amazing TV show. Kaufman and Rush take place during the same timeframe and I would love to see the scenes play out and intertwine in real time!
Many of the things you got a hint of about related to Spencer and Noelle while reading about Kingston and Ellie in Rush you get to witness firsthand here! And it was so much more than my mind anticipated!
Be warned there is third POV in this book and WOW did it add to the story. It added to the world that will pull you in but it never, I repeat never, screws with the romance in the book. You will never question Spencer and in the end the story line associated with this third POV layers both Spencer and in the end the bond between Noelle and Spencer. No menage here Kaufman truly is a m/f HEA; a powerful friends to lovers story!
And though I likely should have said this first, the moment Spencer and Noelle feel the connection to each other so does the reader. Spencer never looks back after this moment. Well ok he questions the pull a bit but never with another woman; he simply looks inside himself and questions if a relationship with his sister's best friend is what he wants and well once he decided he can't love without Noelle, Spencer becomes the hero you will swoon over!
I loved the Arrows Captian's nicknames, the Big C and "Optimus." The responsibility of team captain is one played out throughout both books and was really well done here especially when that responsibility taps into something Spencer isn't comfortable with. Noelle's support for him in this scene was perfection!
OMG Spencer's rant about Jason is epic; likely not what you think but such a great look into Spencer's soul and so spot on regarding the subject of the rant and that continued dialogue (vague I know…read the book).
I can't wait for the next book in the Austin Arrows since…hoping it is Heath…though I also want Seg, OK I really really want Colton Seguine. And with Heath being Heath Rush, Kingston's younger brother… the big question is what is Ms. Edwards going to name his book?!
As an FYI that if you are new to the series, the Austin Arrows Series is a spin off from a top read of mine from last year and favorite book of mine A Million Tiny Pieces. This menage read is not necessary to read to love this series just know that the team owner, Phoenix, has his menage happy written in this amazing story!
Side note that you haven't read The Secret by Rhonda Byrne, this book may having you one-clicking a copy.
Inside the story of this book is a great example of how a book can touch and change your life!