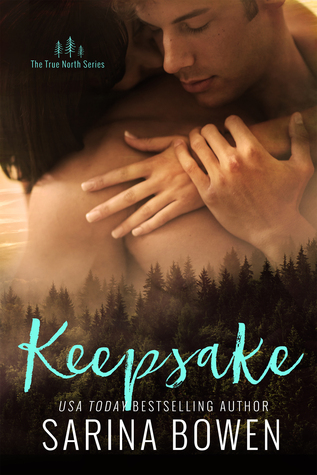 Keepsake

by Sarina Bowen
on October 25, 2016
Buy on Amazon, Buy on B&N, Buy on iTunes, Buy on Kobo
Goodreads


There's a first time for everything.

Lark Wainwright used to be fearless. Her life was a series of adventures, each one more exhilarating than the last. But her recent overseas adventure was one too many. Now she's home and in one piece. Mostly. But her nights are filled with terror.

When her best friend offers her a stay at the orchard in exchange for help at the farmers' markets, Lark jumps at the chance to spend fall in Vermont. But her nightmares don't stop. Desperate to keep her fragile state a secret, she relies on the most soft-spoken resident of the Shipley Farm to soothe her when her dreams prove too much.

Zachariah is a survivor, too. It's been four years since he was tossed aside by the polygamist cult where he grew up. He's found a peaceful existence on the Shipley's farm, picking apples and fixing machinery. But getting thrown away by your own people at nineteen leaves a mark on a guy. He doesn't always know what to make of a world where movie quotes are the primary means of communication. Before hitchhiking to Vermont, he'd never watched TV or spoken on the phone.

Actually, there are a lot of things he's never done.

Zach and Lark slowly grow to trust one another. One night they become even closer than they'd planned. But Lark may still be too broken to trust anyone. When she pushes Zach away, he will have to prove to himself that he's good for much more than farm labor.
First this is a top series for me! I adore the characters, the setting, the feelings this series evokes in me. From the moment I opened the book and stepped back onto the Shilpey farm, it was like coming home.
Second, reading this book during fall, apple picking season is happening here in the Northeast and it was so perfect; I could almost taste the apple cider donuts and yes I went off to buy a honey crisp apple from a local farm.
Zachariah.. Zach, he is a quiet farm hand readers of this series have known since book 1 and Lark, a friend of May Shipley's both find themselves on the farm having escaped traumatic pasts. This is where I will pause and say to keep this spoiler free, the review will not be lengthy though I will try to relay my love of this story!
Keepsake had my mind thinking about it when I forced to put it down to live my life, something I so wished I didn't have to do! I wish I could have sat and devoured this book in one sitting.
Zach and Lark develop an easy friendship, one that develops into a comfort the reader can recognize as the stuff soulmates are build off of. Witnessing these emotions slowly develop into a physical relationship fit these two perfectly both their characters and their pasts. Speaking of physical the first kiss, well both first kisses (it makes sense when you read the story) was so perfect!
Keepsake builds a family, a community, a world that will have you forcing yourself to read slow so you can savor each moment. Ms. Bowen does an outstanding job pulling the reader into this Vermont setting and allowing them to witness life and love on the Shipley farm. .
The happy Zach and Lark find is so perfect for them, and in the end not only did I love the Shilpey family but Lark's parents made me smile from ear to ear with their understanding of what happy truly means.
I so hope Zara is next! This lady needs a happy and the end of this one…. well it has me crossing my fingers she is up next!
 ♥ READ THE SERIES ♥
Book 1 – Bittersweet
Book 2 – Steadfast