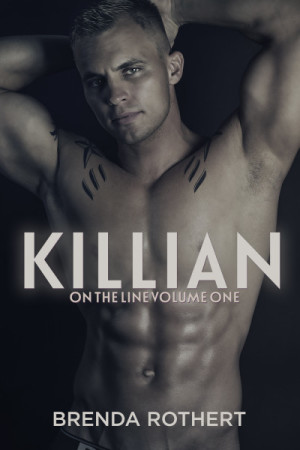 Killian

by Brenda Rothert
on February 24, 2015
Buy on Amazon
Goodreads


Killian Bosch knows he's his own worst enemy – he just doesn't give a damn. The star forward of a minor league hockey team, he's unstoppable on the ice. His reckless behavior, devil-may-care attitude and complete disregard for consequences have made him a major source of headaches for the Fenway Flyers' brass.
But the new Flyers owner is more steel than brass. Sidney Stahl is a disciplined woman who parlayed earnings from a college job into a real estate empire. She's determined to transform the Flyers from marketing nightmare to hockey powerhouse. Once she gets Killian in line, she knows the rest of the team will follow his lead.

The seduction of his sexy new team owner is a challenge too forbidden for Killian to resist. Sidney plays into his attraction as a means of controlling him, but soon finds that she's the one surrendering. It's all on the line as Killian and Sidney are forced to choose - business or pleasure?
Killian is the story of minor league hockey player Killian Bosch; though Killian has talent, he is the master of self sabotage. Self sabotage that Ms. Rothert truly puts into context and puts to bed by the end of the book (nope not telling you the why or the how because that truly is the wonderful part of this story).
The story opens with the Flyers minor league team getting a new owner…… My head swiveled to look at Orion. Her? The new owner was a woman? F&cking hell. A woman wouldn't be able to make the tough decisions this team needed to recover from its place at the bottom of the league.
Yes, the team has been purchased by a woman Sidney Stahl "The Ice Queen." Oh and did you see it.. if you read Ms. Rothert's Fire and Ice series, Orion the Coach of this team is the same Orion from Release (a man who gave up his professional hockey career for an amazing reason – if you have not read Release, I highly recommend it – but it is in no way needed to enjoy this story).
Ms. Stahl is set upon rebuilding the Flyers; and her first line Killian, Bennett and Liam will play a big part in that.  The chemistry from the first meeting between Sid and Killian was tangible
And I loved the banter between these three men.
Watching Sid and Killian dance around their attraction was engaging and I loved how the book did not overlook the possible complications of an employee and employer love affair.
Killian is a dirty talker:
"We're gonna win tonight, and after the game I plan to f*ck this p*ssy long and hard. I want you to get it ready for me today. Get it waxed bare and buy some lacy black panties."
The fire in his smoky gray eyes matched the burn between my thighs. Refusing him wasn't even an option.
But even hotter than his mouth; Killian's admiration of Sid's power and success: She was a woman who was always in control. She was the boss. The one charged with making tough decisions. I knew part of my appeal was that in the bedroom, I took control. I gave, and she took. It was the one area in her life where she could let go. Nothing was off limits.
The happy Sid and Killian finds felt true to the characters created.  Killian's journey was one of healing and a discovery of self-worth.
I am so excited to read both Bennett and Liam; Ms. Rothert is writing stories for Killian's linemates; stories that will take place during this same timeline! Such a wonderful idea!
The "On the Line" series is a must read for me.
♥ BUY THE BOOK ♥