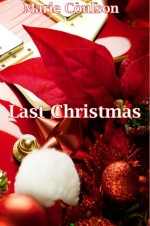 4 STARS!!!
Summary
Last Christmas I had everything I'd ever dreamed of.  The perfect place, the perfect gift and the perfect girl.  And now it's all gone. It's lost in a sea of broken promises, lies, cheating and torn hearts. Christmas won't be the same without you and I'm damned if I'll let myself wallow. But how can I let go of us, when I can't stop thinking about you? It's Christmas time in Utah, but my mind is on you. It's across oceans,miles away and this year, all I want for Christmas…is you.
Denise's Review
WARNING:  do not read this book or this review if you have NOT read BOUND TOGETHER.
When I first read the title, I thought this book was going to revisit the Christmas Ollie and Layla spent together in book 1 Bound Together.  Well I was mistaken and pleasantly surprised!
This short novella takes places after the end of Bound Together and is told in Ollie's POV – him dealing with the aftermath of what Layla left behind.
I really enjoyed this story.  You get a real glimpse into Ollie – his actions felt true to his character and the use of secondary characters – his family, by blood and his real family his friends truly added to this story.
For a short piece, this story is hot and emotional.  Some of the banter between Amy and Mel and Ollie is laugh out loud funny.
Ollie's is a bad boy who knows the person who showed him he has heart is the one person for him….What will Ollie do to get over Layla?  Well, you will have read to see what this "rock star" does to mend his broken heart!
The reason for 4 stars and not 5 is mainly because it was short – I find it hard to give a short piece 5 stars.
At the end of this you will be left with an even greater desire for TORN APART the continuation of Layla's journey… Yes, Marie please get writing!!!
For more information about the author, please visit her sites:
Twitter @marie_coulson
Website http://www.goodreads.com/book/show/16090876-bound-together http://authormariecoulson.wordpress.com/