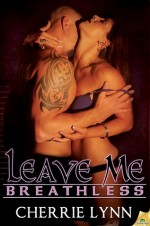 4 Stars!!!
Summary
Leather and lace don't strike sparks. Or do they?
It's Valentine's Day, but Macy Rodgers isn't feeling the love. Aside from a torrid, one-night fling in a backseat a few months back, her love life has been sorely lacking, but fortunately she has devious friends who feel like playing Cupid. Wouldn't they be shocked to learn that the match they've made for her is the same one that steamed up the back of that '69 GTO…
Seth "Ghost" Warren has just returned to town after an extended absence. Between his grandmother's failing health, his job as a tattoo artist, his band's gigs, and a crazy ex that won't leave him alone, he's stretched thin. Cautious cowgirl Macy is the last thing he needs thrown into the mix.
She's all country, he's all heavy metal—and Macy knows that if anyone can propel her out of her rut, it's Seth. But when their worlds collide, it's anyone guess if they'll survive with their hearts intact.
Warning: Contains explicit sex, graphic language, road trips, troublemaking exes, emotional baggage, and an unconventional but exceptionally hot hero tatted and pierced for your pleasure…
Denise's Review
LEAVE ME BREATHLESS is Book 3 in Cherrie Lynn's Ross Siblings series and tells the story of Macy Rodgers and Seth "Ghost" Warren.
For those of you who read book 2, Rock
Me, Macy is best friends with Candace and Seth is best friends with—and a tattoo artist at—Brian Ross' tattoo parlor.
Ms Lynn did a wonderful job separating this story from book 2. Though on the surface, it appears to be a similar story—rich girl attracted to a bad boy—the author clearly tells a different story in this book.
Seth and Brian have been friends since high school; Seth describes Brian as the brother he should have had. Ms. Lynn's development of Seth's backstory is wonderful and compelling. You learn why he would prefer Brian to be his own brother. You feel for Seth and feel the depth of his emotion, particularly towards his Nana. Seth sees Macy to the depth of her soul, scary for her and powerful for the reader. Despite the rough exterior, this is a compassionate gentleman who still opens doors.
Macy is a true country girl, a girl with a wound in her past that is a physical wound but more importantly an emotional one. Ms Lynn also uses Macy's parents very effectively in this book. The bond Macy has with her parents, seeing her through their eyes, adds another layer to this book.
This relationship does not operate in a vacuum. Ms Lynn uses the relationships with other characters to move the story along. And again for those of you who love Brian and Candace, they are seen in this book a number of times.
Ms Lynn does not disappoint delivering smokin' hot sex scenes, but she also managed to weave emotion into the sex. The attraction between Macy and Seth is something the reader is able to feel; it becomes tangible as do the obstacles that bar their way.
You will have to read this one to find out if they can overcome the death of a loved one as well as crazy ex-lover and wounds from both their pasts.
I was provided with an ARC copy of this book in exchange for an honest review.
About the Author
Cherrie Lynn has been a CPS caseworker and a juvenile probation officer, but now that she has come to her senses, she writes contemporary and paranormal romance on the steamy side. It's *much* more fun. She's also an unabashed rock music enthusiast, and loves letting her passion for romance and metal collide on the page.
When she's not writing, you can find her reading, listening to music or playing with her favorite gadget of the moment. She's also fond of hitting the road with her husband to catch their favorite bands live.
Cherrie lives in East Texas with said husband and their two kids, all of whom are the source of much merriment, mischief and mayhem. You can reach her at cherrie@cherrielynn.com, at the various social networking sites, or right here. She loves hearing from readers!
Twitter cherrielynn 
Website http://www.cherrielynn.com