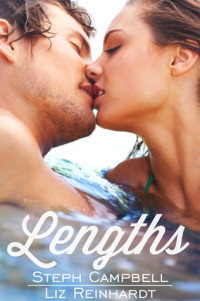 ---
4 STARS!!!
Synopsis
Nineteen-year-old Whit Conrad leaves her conservative Pennsylvania home for sunny California, looking for independence, a fresh start, and a place to stash her grief.  She promptly finds a job at a tattoo parlor, a craptastic first apartment, and one friend—Ryan—who is a little less friend, a little more benefits.
Deo Beckett is a soulful surfer with a passion for tattoos and beautiful women. On the eve of his twenty-second birthday, he finds himself living with his grandfather, recently unemployed, and seriously adrift. He doesn't know much about what he wants out of life, but he does know his current situation isn't cutting it.
When Deo meets Whit, she's all sexy makeup and fierce, smart-ass fun. It doesn't take him long to see past her tough shell. And when he gets a good look at what's under all the superficial stuff that usually gets his attention, it leaves Deo wondering if there might be more to life than living fast and free.
Too bad Whit has a past she doesn't plan on sharing—no matter how hot Deo is. She might want him, but she knows better than to let her guard down.
Deo falls for Whit, and falls hard. But everything about her, down to that mysterious tattoo and the way she thrashes in her sleep, tells him that the girl he loves is hiding something. And the more he pushes for answers, the more Whit pulls away.
Having your guard up is one thing, but are the lengths Whit goes to to protect her secret worth throwing away the second chance she has at happiness with Deo?
LENGTHS is a Contemporary New Adult Romance.
Christine's Review
When Depths came out in March, I knew I had to go back and read book 1 to catch up to the characters and the history.  And boy am I glad I did!  I should have read this long ago!!  I truly enjoyed this funny, heartwarming story that evoked so many different emotions in me!
Twenty two year old Deo Beckett is a gorgeous beach bum who is totally witty, funny with a laid back easy going personality.  He spends his days surfing and hanging out.  There are really SO many more words to describe Deo – thoughtful, protective – did I say gorgeous?!  We will get to that more later!
It all changes on his birthday when he receives a tattoo as a present from his mom and walks into the tattoo shop and meets Whitley Conrad.  Whit is a freshman in college who has left her home in PA to take care of herself and make a change in her life.
There is an instant attraction to one another – they talk easily to each other and I LOVE their easy going bantering and Deo's wise ass comments.
Deo immediately makes his intentions known as he actively pursues Whit and I can instantly see that she is scared of getting serious with him.  She wants casual and with him, she recognizes how it will be more.  Whit has a boy toy in Ryan who she uses for sex, and we the readers can see that she uses sex as a coping mechanism to forget and to just feel good.  Whit places Deo in "friend zone" but it quickly becomes more as he stays most nights with her.  You see, Whit is hiding a secret that causes her to be afraid of the dark and to have bad dreams.  And Deo being the gentleman that he is wants to care for her, soothe her and protect her from these inner demons that she never wants to discuss.  I LOVE how patient he is with her and the confessions from his heart that he makes to her every night while she sleeps.
When Whit finally allows Deo more into her heart and we can see the love that is blooming between these two characters (though Whit won't admit it), the secrets behind Whit's grief are revealed causing friction between Whit and Deo.  I appreciate Deo's need to help Whit and fix her.  But it's up to Whit to be able to overcome this deep sadness and move forward.
So what will happen to these characters?  Will they be a part of each other's lives and finally recognize the deep love that is between them?  Will their path in life bring them back to each other?
You will have to read this book to find out!  This is my first read by Ms. Reinhardt and Ms. Campbell and will definitely not be my last.  I have never read a book that was a collaborative effort and I thought the authors did a really great job!  It was seamless and it flowed very nicely.  I look forward to reading Depths very soon to continue with this wonderful cast of characters!  Btw, I truly adored Deo's crazy kookie hippie mom and his grandfather – I thought they added another layer of comedy, love and support to these two characters who not only needed each other but these wonderful people in their lives.  Great job!
About the Authors
Steph Campbell
Steph Campbell grew up in Southern California, but now calls Southwest Louisiana home. She has one husband, four children and a serious nail polish obsession.
She's rep'd by Jane Dystel & Lauren Abramo of Dystel & Goderich.
Liz Reinhardt
Liz Reinhardt was born and raised in the idyllic beauty of northwest NJ. A move to the subtropics of coastal Georgia with her daughter and husband left her with a newly realized taste for the beach and a bloated sunscreen budget. Right alongside these new loves is her old, steadfast affection and longing for bagels and the fast-talking foul mouths of her youth.
She loves Raisinettes, even if they aren't really candy, the Oxford comma, movies that are hilarious or feature zombies, any and all books, but especially romance (the smarter and hotter, the better), the sound of her daughter's incessantly wise and entertaining chatter, and watching her husband work on cars in the driveway.
Liz Reinhardt