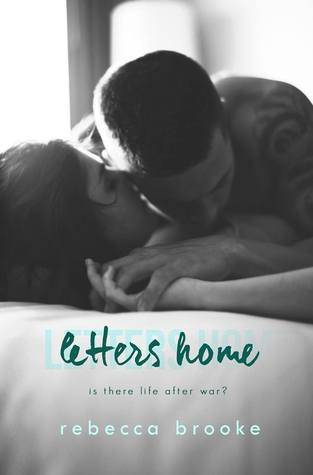 Letters Home

by Rebecca Brooke
on June 10, 2014
Buy on Amazon
Goodreads


Life is all about the jigsaw, right? Finding the different puzzle pieces to complete your very own picture. A career you love, a house to make a home, a lover to complete you, and keep you warm at night. 

Danielle Renton has a life, and she loves it. A recent law school graduate, she'd been floored when her boyfriend, Nate Lewis, enlisted during their sophomore year of college. At the time, she'd been concerned with what that meant for them as a couple, but in the years that followed, they'd learned to adapt to the logistics of an army relationship.

But when life throws her a curve ball, how will she cope? Can she pick up the pieces and make her picture beautiful again? Or does she realize that, sometimes, the pieces can be too broken to fit back together…
Ok first I loved this book! Second this review will be short because I don't want to give away the story, I want the reader to read and experience it the way I did with all its twist and turns.
Letters Home is told in three POV's but is truly Danielle Renton's story.
Danielle's path to happy is not an easy one, it is one filled with love, true love – the soul touching kind and deep heartache, the soul breaking kind.
The reader meets Danielle in high school and takes a journey with her through college and graduate school to a place where she is ready to start her career as a lawyer surrounded by the love of her boyfriend, Nate Lewis a dashing gentleman who chose in college to enlist in the military.
The title of this book weaves beautifully into the story, the letters Nate writes truly become part of Danielle and her future.
I will NOT tell you what Danielle's future is but I will say I loved the happy this book came to.
I often say it is not what life gives you but what you do with it, this book is that and more. This book is about choosing to move forward, choosing to continue living and choosing to embrace love.
Ms. Brooke touched my soul with Dani's story.
I was very excited to learn there is novella planned in an upcoming anthology. I can not wait to read more about Danielle and her happy!