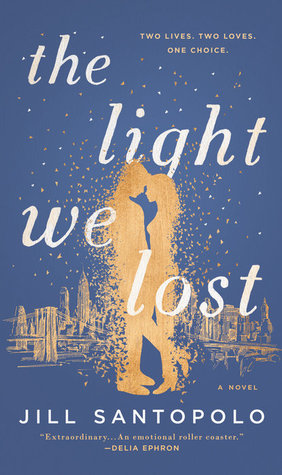 The Light We Lost

by Jill Santopolo
on May 9, 2017
Pages: 336
Buy on Amazon, Buy on B&N, Buy on iTunes, Buy on Kobo
Goodreads


Me Before You meets One Day in this devastatingly romantic debut novel about the enduring power of first love with a shocking, unforgettable ending. A Love Story for a new generation.

He was the first person to inspire her, to move her, to truly understand her. Was he meant to be the last?

Lucy is faced with a life-altering choice. But before she can make her decision, she must start her story—their story—at the very beginning.

Lucy and Gabe meet as seniors at Columbia University on a day that changes both of their lives forever. Together, they decide they want their lives to mean something, to matter. When they meet again a year later, it seems fated—perhaps they'll find life's meaning in each other. But then Gabe becomes a photojournalist assigned to the Middle East and Lucy pursues a career in New York. What follows is a thirteen-year journey of dreams, desires, jealousies, betrayals, and, ultimately, of love. Was it fate that brought them together? Is it choice that has kept them away? Their journey takes Lucy and Gabe continents apart, but never out of each other's hearts.
The blurb for The Light We Lost captured my attention right away. For one, I am a HUGE fan of Me Before You and I love any romance story about first love.
I had very high expectations for this book going in even though I knew that this was a debut novel. And sadly I felt a little let down. I will explain why.
This book was told in Lucy's POV and it felt almost like a journal or daily diary entries of her life. Attending Columbia University and meeting and falling in love with Gabe. These two experience something horrific together, something that I was a part of as I was there working on Wall Street on September 11th. It is something in our history that no one will ever forget.
I enjoyed their love story—how much they loved each other and supported each other though at times I often felt that Lucy took a backseat to Gabe's personality and later on his hopes and dreams for his career.
The reader will journey with Lucy as she tries to get over her broken heart of losing her love and then when she tries to build a new future with Darren, the epitome of the perfect boyfriend. Darren was everything that Gabe was not and then some, but I often times felt sad for him and her constant comparisons between him and Gabe. He had very big shoes to fill.
Darren puts Lucy back together and together they take on life's journey but there is always that certain someone lingering in the back of her mind, the what ifs, the memories.
I don't want to ruin the story for those who intend on reading this but here are my thoughts… I felt that Lucy never really gave Darren a fair shot. She put Gabe on such a high pedestal that I don't think anyone would have been able to have her heart completely. There were times that I didn't love their choices because I knew in my heart that someone was going to get hurt. And when some mistakes were made because of some preconceived notions, I couldn't help but wish that there was more communication… more talking so that maybe some of these things could have been avoided.
Here's the thing… no one is perfect. We all make mistakes. Like the book mentions—sometimes there is that fork in the road, the choices you make, the mistakes that sometimes happen is what life is all about. And I get that. I guess for me, I just couldn't stand behind the choices that the heroine made because I felt like they were selfish and one sided and yes they hurt my heart and made me angry and sad. I didn't love the ending and would have wished for a few more chapters so that we could have experience what happened when the truth came out—I felt like I was missing something and just wanted a bit more. Maybe an epilogue would have helped this more.
Would I read this author again? Most definitely. Her writing style was interesting and unique and despite not loving the story, I was engrossed from page one and The Light We Lost was unputdownable.