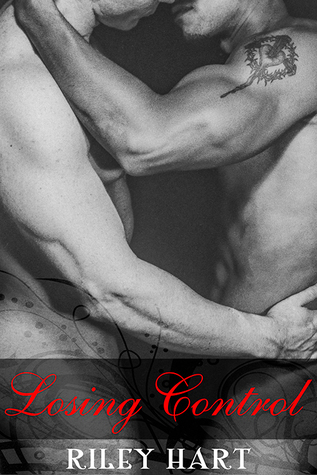 Losing Control

by Riley Hart
on February 27th, 2015
Buy on Amazon
Goodreads


One the surface, Ben seems to have it all: money, influence, good looks. He smiles and jokes in all the right places, but it's all a façade. Inside he's a wreck, and it's only getting worse. With his Congressman father using Ben's recent kidnapping for his own political agenda, and Ben still struggling to get over the only guy he's ever loved, he feels like he's losing his grip on reality and he's quickly spiraling out of control.

Then he meets Dante, an enigma of a man with as much self-hatred as Ben has. In Dante, Ben finds what he didn't know he needed: Dante's control, his power, is the only thing that clears the fog in Ben's brain. For the first time in his life, Ben has a lover who just might need Ben as much as Ben needs him. When they're together, the demons from their pasts don't lurk so heavily on their shoulders.

But Dante can't fix him. Not when a memory from Ben's past is haunting him in ways he doesn't understand, waiting for him to put together the missing pieces in his head...and what he discovers just might have the power to break him for good.
I highly recommend you read these books in order, books 1 and 2 Broken Pieces and Full Circle are about Josiah, Tristan and Mateo. Yes a menage read and before you dismiss it, let me just say it works, it works so well that I can't even imagine another happy for these men.
Readers met Ben in the prior books in the series; as Ben is Tristan's ex-lover and best friend. I want to pause and say I am one of the those readers who wanted Ben's story and I am so happy it was written. Ms. Hart truly did his story justice. I feel like I know Ben and I freaking LOVE him!
Losing Control opens with a sad Ben; a Ben struggling to find his way in the world as his family does not accept him and the man he thought he loved has moved on.
The tool used to allow the reader into Ben's mind was wonderful. It truly allows the reader to understand him and feel his struggle at a deeper level.
Ben's first meeting with Dante was powerful. You can feel the pull these two have for each other. Going into this book I loved Ben, yes I know I said that already but I think what shocked me was that I also fell for Dante. Dante was pure of soul, controlling yes, but with a clear vision of who Ben was. These two develop a friendship, a kinship as Dante tries to help Ben move forward. Watching these two men's lives slowly intertwine was so enjoyable. Shh.. want to know a secret? Dante is a bit of Dom; and yes he is hot as all get up!
Both men have pasts that start to entangle themselves into their present and future. I adored how Ms. Hart did not simply brush this under the rug or make it a love heals all kind of situations. The happy these two men come to is one that is hard fought for. Each man must heal before they can love openly and freely.
I adored how the end of this book tied into the conflict and resolution in Full Circle. Mateo's role in the conclusion felt true and so right for both Ben's story and Mateo's journey (trust me…when you read all three books it will make sense).
The epilogue of this book is truly a happy for all of them, Josiah, Tristan, Mateo, Ben and Dante. My heart is smiling for the happy they have found in love and true friendship.
I highly recommend this series! I loved the journey to happy all these men found.
 ♥READ THE SERIES♥
Book 1 – Broken Pieces
Book 2 – Full Circle
Book 3 – Losing Control