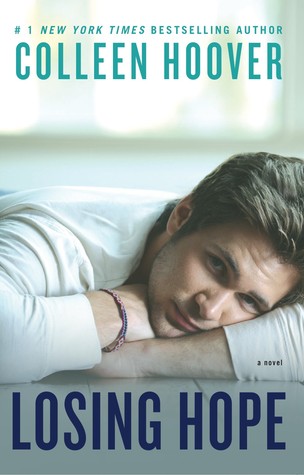 Read Christine's 5 STAR review of Hopeless here.
---
5 STARS!!!
Synopsis
In the follow-up to Colleen Hoover's #1 New York Times bestseller Hopeless, the charming and irresistible Dean Holder tells the passionate story that has melted thousands of hearts.
In Hopeless, Sky left no secret unearthed, no feeling unshared, and no memory forgotten, but Holder's past remained a mystery.
Still haunted by the little girl he let walk away, Holder has spent his entire life searching for her in an attempt to finally rid himself of the crushing guilt he has felt for years. But he could not have anticipated that the moment they reconnect, even greater remorse would overwhelm him…
Sometimes in life, if we wish to move forward, we must first dig deep into our past and make amends. In Losing Hope, bestselling author Colleen Hoover reveals what was going on inside Holder's head during all those hopeless moments—and whether he can gain the peace he desperately needs.
Christine's Review
What can I say about this book that hasn't been already said?  I received this ARC copy a while back and sadly it had to sit on my TBR list for a bit for me to get through some blog tours.  As soon as my schedule cleared, this was the very first book I picked up!  Hopeless was a book that stayed with me long after I read it.  I recommended it to everyone and anyone that listened so I knew that Losing Hope would create a similar reaction in me.
Losing Hope was not a retelling of Hopeless – I don't know how Colleen Hoover did it but this experience was so different for me.  Not only was it from Holder's POV but I LOVED it even more!  Seeing what Holder went through not only with losing his sister but his best friend Hope broke my heart.  I was even more emotional this time around because of the letters that Holder wrote to his sister.  This was an entirely new aspect of the story and I had to endure everything that Holder went through – his return to school with all of the gossip, his constant feelings of how messed up he was inside his head, his belief in his failure of how he couldn't protect his sister or Hope and ultimately how he put the blame and guilt on himself.  All of this combined with what I already know from reading Hopeless took this story to a whole other level.
I enjoyed seeing Holder's reaction to Sky the very first moment he sees her.  Watching their interactions and seeing their connection put a smile on my face as I knew what was to come.  Yes, you know where the story is going because of Hopeless but it's so very different in that this is Holder's story – making it full circle and complete.  Sky gives Holder something to look forward to, something to smile about, something else to think about other than his pain.  Reading the moments when he finally realizes who she is was both beautiful and emotional for me.  Because they need each other – like someone needs air to breathe – they complete each other in every way.
I know I told her that she's never really been kissed before, but until this moment I had no idea that I had never really been kissed before.  Not like this.  Every kiss, every movement, every moan, every touch of her hand against my skin.  She's my saving grace.  My Hope.
And I'm never walking away from her again.
I LIVED this story!  I got goosebumps all over again from this story.  I LOVED every word written!!!
"The only thing that matters to me with you are the forevers."
Colleen Hoover has done it again – she has created something so beautiful and timeless and honest.  I loved experiencing everything again through Holder's eyes.  I savored every moment and relived every beautiful word that Colleen wrote as if it were the first time.  Every word is brilliant – this was a wonderful, amazing story of finding happiness, getting a second chance at living life, moving forward from pain and ultimately finding hope.
Thank you Ms. Hoover for sharing these characters with us….yes I am extremely sad that their story is over but I will re-read again and again to experience this beautiful story she created so full of love. <3
You can find more info on the Author here