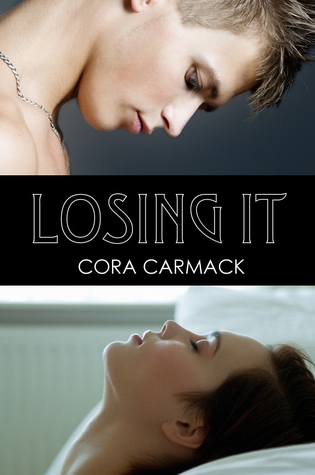 ---
3.5 STARS!!!
Synopsis
Virginity.
Bliss Edwards is about to graduate from college and still has hers. Sick of being the only virgin among her friends, she decides the best way to deal with the problem is to lose it as quickly and simply as possible– a one-night stand. But her plan turns out to be anything but simple when she freaks out and leaves a gorgeous guy alone and naked in her bed with an excuse that no one with half-a-brain would ever believe. And as if that weren't embarrassing enough, when she arrives for her first class of her last college semester, she recognizes her new theatre professor. She'd left him naked in her bed about 8 hours earlier.
Christine's Review
I truly enjoyed my first book by Cora Carmack and look forward to reading more from her in the future. I took a mini break from my blog tours to enjoy a book from my never ending TBR list and was glad to pick this fun and quick read from Cora.
Bliss Edwards is 22 years old, is in her last year of college, is a total control freak, and oh is still a virgin. It's not unheard of in this day and age but something nice to experience all the same.
Bliss meets 24 year old Garrick at a bar one night while she is out with her friends. He is blond with crystal blue eyes and he has an accent! Ah!
When Bliss decides to go home with him to finally be rid of the big V, it's nice to see her having fun and not being so serious.
Stop! Cats! Stop…LMAO – I could not stop laughing. Bliss is hysterical with all of her inner dialogue as she is now freaked out about losing her virginity to a complete stranger and uses the excuse of her nonexistent pet to escape sex lol 🙂
And the laughter slowly goes downhill as I come to realize that Garrick is Bliss' new theater teacher/director at her college. Ugh! There is no denying the attraction between these two characters as we see bouts of frustration and jealousy on both sides. Garrick is still protective of her despite the student/teacher relationship and to complicate matters Cade, the best friend who I thought was into guys has revealed his love for Bliss! What is a girl to do when she is finally selected for a lead part in a large school play, is in a role opposite with her ex-best friend who loves her and is being directed by the guy she really WANTS to be with but can't because he is her teacher!?
I truly enjoyed the characters in this book as well as the flawless writing by the author. It was funny and witty and held my attention throughout. I LOVED the epilogue and CANT WAIT to read Cade's story next and to see if Bliss and Garrick are mentioned again in future books (oh I hope they are!!!!)
Thanks Cora for a great read!
About the Author

Cora Carmack is a twenty-something writer who likes to write about twenty-something characters. She's done a multitude of things in her life– boring jobs (like working retail), Fun jobs (like working in a theatre), stressful jobs (like teaching), and dream jobs (like writing). She enjoys placing her characters in the most awkward situations possible, and then trying to help them get a boyfriend out of it. Awkward people need love, too. Her first book, LOSING IT, is a New York Times and USA Today bestseller.