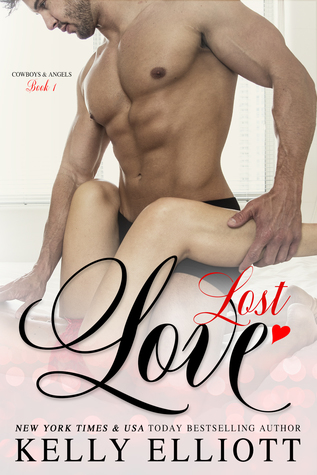 Lost Love

by Kelly Elliott
on June 27, 2017
Buy on Amazon, Buy on B&N, Buy on iTunes, Buy on Kobo
Goodreads


Moving back home to my parents' cattle ranch in Texas was the last thing I thought I'd be doing.

But, here I stand … in front of my high school girlfriend. A beautiful, confident woman has replaced the young girl I once knew and loved. Hell. I'm still in love with her.

Yep. Paxton Monroe was my first love and the one girl in town who now hated my guts. So much so, Paxton swore her revenge on me if it took her until the day she died. The last words she spoke to me were a vow to cut my dick off and shove it down my throat.

The fight between my heart, my head, and last, but certainly not least, my dick starts tonight. Because all I can think about is how I want to be buried so deep inside Paxton she won't remember how I broke her heart, or how I left her when she needed me the most.

But who will win? My heart is too broken to listen to my head. And my dick, yeah it's not listening to anything or anyone. Not until it gets what it wants and what it wants is Paxton Monroe.

Lost Love is book one in the Cowboys and Angels Series.
Lost Love is my first Kelly Elliott book and it did not disappoint. This is a new series with characters you want to know more about and I can't wait to get more of the Parker siblings.
Lost Love is the story of Steed Parker and Paxton Monroe. Steed and Pax dated while in high school and thought it was that forever kind of love until… it wasn't and they split in such a heartbreaking way that I questioned whether it was something they could ever recover from.
Ten years later Steed is back. After a failed marriage he returns to his only real home—the home filled with so many memories that he has never forgotten. And with him is his beautiful daughter. His daughter who is going to kindergarten which puts him face to face unknowingly with his first and only love Paxton.
Paxton is completely floored and angry to see him again but how does one ever forget your first love even with the hurt that was left in his wake when he left town?
And here begins the story of how Steed tries to win back the only woman he has ever loved.
I love a good second chance romance especially when there is a child involved. That coupled with the great secondary characters namely his brothers and sisters will make readers want to know more about this family and to see how each is able to find their HEA.
Where I struggled a bit which is why the 3.5 STARS is because I wanted more angst from this book. I really wanted Steed to work for Pax's forgiveness and I honestly didn't feel like he did enough. The story seemed repetitive at times and a little too cheesy lovey dovey if this makes sense.
Overall though I did enjoy this story and look forward to reading more from the Parker family.


"Whatcha doing?"
I nearly jumped out of my skin as I spun around and clutched at my chest.
"Jesus, Amelia! Why would you sneak up on me like that?"
She tried to hide her smile and failed. Lifting her brows, she glanced past my shoulder. "Were you watching Steed and Chloe?"
My cheeks heated. "What? No! Are they here? I haven't seen them. Why would you say that?"
When her eyes moved back to mine, I knew she saw right through my blunder of lies. "Uh-huh. I know I was little when you and Steed dated, so we really don't know each other all that well." She smiled. "But I can already tell you're a terrible liar, Paxton."
I dropped my head then peeked up at her. "I wasn't spying."
Amelia held up her hands. "I didn't say you were."
Chewing on my lip, I sighed. "Okay. I was spying. I'm lost, Amelia."
With a soft sympathetic grin, she glanced at her brother. "So is he, Paxton. His eyes are so sad. Earlier this morning we all had breakfast together as a family and both Mom and I noticed it."
"The family was all together?" I asked.
She nodded with a grin. "The boys have been working the ranch the last two days so they're all staying at the house. It's been nice having Steed home again. Dad's thrilled he's back and digging deeper into the business side of the ranch. The idea of having another son run day-to-day operations has him all kinds of happy."
Guilt hit me square in the chest. It was my fault he left. I told him to leave.
He left his family and stayed away because of me.
"I'm so sorry he left town," I said.
"Paxton, you didn't keep him away all those years. That was his decision. A poor one, but his nonetheless."
I shrugged. Turning, I glanced back at Steed and Chloe. "He's such a good father."
The sadness in my voice caused Amelia to put her hand on my shoulder and gave it a squeeze.