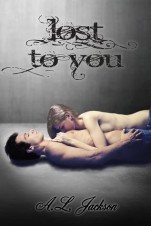 Happy release day to A.L. Jackson and Lost To You!
Stop by A.L. Jackson's blog today for a Lost in Lyrics special!
5 STARS!!!
Summary
People come into our lives. Some stay, and many go. Some build us up, while most tear us down. They become our friends, our enemies, our lovers, our tormentors.
Christian Davison came into mine, and I knew I'd never be the same.
To Elizabeth Ayers, New York City had always been a dream. She's worked her entire young life to make it here.
Groomed to one day take over his father's law firm, attending Columbia University was Christian Davison's only option.
Neither wanted anything more until they sat across from each other at a café table after being paired as study partners.
Christian wants her, but Elizabeth knows better than to give into their intense attraction. Yet there is little she can do to stay away.
Lost to You, the prequel to the bestselling romance, Take This Regret. A New Adult novella, recommended for readers 17+. It's unnecessary to have read Take This Regret to enjoy Lost to You.
Christine's Review
Having never read any work by AL Jackson, I'm instantly captivated by her writing and by Christian and Elizabeth!  This was such a heartwarming, well written and descriptive novella that I felt that I was actually a part of this story experiencing every feeling that Christian is feeling towards Elizabeth and vice versa.  Ms. Jackson has easily become one of my favorite authors of all time!
It is very obvious from the start that these two characters have lived very different lives.  Christian comes from a very well off family, is well traveled yet has had no real love shown to him.  His parents push him too hard for success never caring about his thoughts or feelings.  How could he not turn out the way he is?  He is handsome and smart and used to always getting his way.  Conversely, Elizabeth had no money growing up being raised by a single parent, and has so much love and devotion towards her family in CA.  Elizabeth is a smart, beautiful, strong and independent woman and is genuinely a kind person.  She is almost innocent in my eyes yet without the gullibility and inexperience.  Christian and Elizabeth are both pre-law students at Columbia University in NYC.
I admired how Elizabeth understood Christian from the very start.  She knew that he would be no good for her and I appreciate that she's a good girl who falls in love and doesn't do flings and "just sex."  She knew from the beginning that he would disrupt all of the hard work it took to get her to such a prestigious school so she made a promise to herself that they would remain just friends.  Christian enjoys partying and girls but is also studious as he is tapped by his father to one day take over the family law practice.  I loved that though he was extremely attracted to her, he never made any moves on her and he truly cherished and respected her friendship.
I enjoyed how the author wrote in alternating points of views as I loved to hear how Christian and Elizabeth felt for each other and what was going on in their heads.  Throughout the novella, though they were denying how they felt for each other, I cherished the fact that they truly cared for one another.  They were building a foundation for something that would mean much more than a casual fling – this was the groundwork for real and true love. 
I felt many emotions while reading this novella – each more powerful than the next.  I felt the characters admiration and respect, hurt, heart break and love for each other – it truly consumed me and I could not put this book down.  I fell in love with this couple and I wanted them to work out and deep down inside, I wanted to feel the hope, beauty and magic of true love.  And I did.  I really really did!
I CAN NOT wait to read Take This Regret.  I have not read any reviews about this next book in the series and I don't know what to expect but I'm hoping for more good things from this couple.  Thank you SO much Amy for sharing this beautiful story with me…you are truly a talented writer to make a reader feel something so emotionally powerful.  I am so excited to read more from you!!  THANK YOU THANK YOU THANK YOU!!!  I was provided an ARC copy of this book for an honest review.
Character Inspirations
Christian and Elizabeth's Song – All I Want by Staind (THIS IS THE PERFECT SONG FOR THEM!)
 About the Author
A.L. Jackson is the bestselling contemporary romance author of Pulled, Take This Regret, and When We Collide. She lives in Southern Arizona where she's surrounded by her amazing family and friends.
Website http://aljacksonbooks.blogspot.com/
Facebook http://www.facebook.com/ShhMomsReading#!/ALJacksonbooks?fref=ts
Goodreads http://www.goodreads.com/aljackson