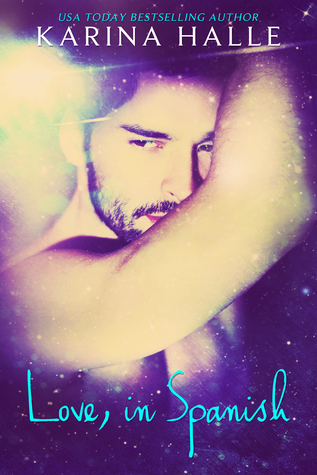 Love, in Spanish

by Karina Halle
on November 11, 2014
Buy on Amazon
Goodreads


The companion to the highly emotional, scandalous and USA Today Bestselling love story - LOVE, IN ENGLISH - is finally here! Love, in Spanish is a Love, in English follow-up novel told from Mateo Casalles' POV. While Love, in Spanish touches on some events that happened in LIE (you know the ones!) it is a whole new story set a year later that continues with Vera and Mateo's "happily ever after." Note: It should be read after Love, in English and it is mostly new material (aka not just rehash of LIE).

***

"She sat beside me on the bus – and she changed my whole life."

Successful, wealthy and absurdly handsome – Spanish ex-football player Mateo Casalles seemed like he had it all. A high-society wife, an adorable little girl, and flashy apartments in Madrid and Barcelona only sweetened the deal. But there was more to Mateo than met the eye – a life of uncertainty and regret that colored his black and white world.

That was until Vera Miles came into his life like a shooting star. Tattooed, wild and young, Vera seemed like Mateo's polar opposite at first. But you can't choose who you fall in love with and the two lost souls did everything they could to be together, all while suffering the grave consequences.

Now with Mateo divorced and living in Madrid with Vera, there is a whole new set of challenges and setbacks facing the couple and rocking the foundation of their star-crossed relationship.

Unfortunately for them, the brighter the star, the faster they burn.

***Love, in Spanish contains the first two chapters of Where Sea Meets Sky, a full-length Love, in English spin off starring Vera's brother, Josh Miles, coming March 2015 from Atria Books***
Karina said to be prepared to fall in love with Mateo all over again…I wasn't prepared for all of the emotions, love, tears that took over my heart when I immersed myself in Love, In Spanish. It gutted me…broke my heart time and time again….I cried and teared a lot….but it was so so so worth it…a beautiful and emotional roller coaster that I completely devoured. And I will be honest and say I would do it over and over again because THIS BOOK is what love is supposed to be like. THIS LOVE is what people dream and wish for. Sometimes you read a book that completely consumes your every thought and emotion and this series – Love, In English and Love, In Spanish is IT for me. Please note that Love, In Spanish is not a retelling of Love, In English but more of a companion novella that is from Mateo's POV and gives us another look into this epic love story.
No one ever said that love was an easy journey and after everything that Mateo and Vera have been through, it was bound to be tough for them as they start to build a life together. I felt in my heart that as long as they had each other to lean on for support that they would be able to overcome anything and everything.
I will admit that I was a blubbering mess from chapter one – Mateo's letter to his Estrella ruined me. Mateo has always had a beautiful way with words, his openness and honesty admirable and this opening set the tone for my MOST anticipated book to read this year.
Mateo and Vera will have to fight through so much in Love, In Spanish; their lives so out in the open for all to see now that Mateo has taken on a coaching job with his old soccer team. Not only are their self doubts and insecurities within themselves, but all of the traumatizing issues being in the public eye – the paparazzi, the parents at school – everyone is always judging. I have to say that I wanted to hurt them all because I was so protective of Vera and Mateo and their growing love and relationship. Love, In Spanish wasn't an easy read for me because their hardships were mine – I rooted for this couple, I wanted them to overcome and more than anything I wished for their happiness so that they could just enjoy each other as they were meant to.
When it comes to matters of the heart and love, you can't live life with regrets. And yes, the love that Vera and Mateo share is not easy but the amazingly beautiful love that they share is so powerful that you can't help but feel overwhelmed by it all.
I have said time and time again that Karina Halle is a master of beautiful words and stories and this book is no different for me. The powerful way she describes every character, every detail and the way she can evoke such emotions in a reader is simply amazing. Yes this book has its heartbreaking moments but overall there is such a sense of love and passion layered through every scene and every nuance making this series one of my top reads of this year.
5 Magnificent Mateo stars!!!!
Favorite Quotes:
"I follow every part of you, everywhere. You go before me, Vera. You always will."
"You are my everything. I've said it before and I will say it again and I'll go down in my grave saying it. You are my star, my light, my love. And it doesn't matter if you believe in it or not because it is the truth and the truth always finds a way to shine."
"I am here because you are mine. And I am yours. I belong with you and you belong with me. I don't care which country or where or under what stars but without you, I'm only me."
♥READ THE BOOKS♥
Book 1 – Love, In English
Book 2 – Love, In Spanish