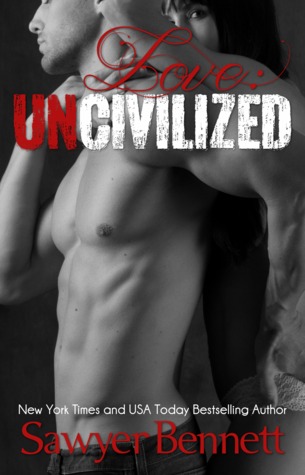 Love Uncivilized

by Sawyer Bennett
on December 15, 2015
Buy on Amazon
Goodreads


How did things ever get to be so difficult?

Nearly eight years of marriage.
Two kids.
Hectic careers and major life choices.

Throw in sexual frustration, doubts, insecurities and one wild man not completely tamed by society, and you have a Christmas that's bound to get out of control. Zacharias Easton will show you just how uncivilized love can be.

** Love: Uncivilized is a follow up novella to the book, Uncivilized. While it can be read as a stand alone, it is best appreciated after having read Uncivilized first.
First if you have not read 
Uncivilized,
 stop reading this review and #1click this unique and hot 5 stars read as it is the story of how Zach and Moira come together!
Then pick up 
Love
Uncivilized
.  
Love
Uncivilized
 is a look at Moira and Zach eight years into their marriage.
From the moment I opened this book, I could so relate to Moira, the life of a busy mom of two little ones with a husband working full time trying to build his career:
"When did our lives get so hectic?"
"It's your fault," she says with a small laugh, followed by a quick sip of coffee. "The minute your sperm punched through my egg, it got hectic. But I suspect this happens a lot to marriage when kids and life get in the way."
The issues Moira face truly spoke to me, and I think it will speak to many women who had a career before being a "mommy".
Ms. Bennett did a wonderful job at painting how complicated marriage and family can be! The struggle to keep romance in your lives, the struggle to have sex, to keep it fun.. and sometimes that sex is different… the way the author portrayed all of that was so well done!
I 
loved
 visiting with the Easton family and I adored the steps forward these two took as they re-connected and chose their path forward… no worries, though this is a powerful and real look into their marriage, Ms. Bennett stayed true to the characters crafted in book 1!
 ♥ Read the Books ♥
Book 1 – Uncivilized
Book 1.5 – Love Uncivilized