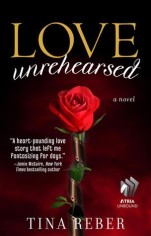 5 STARS!!!
Summary
When A-list film actor Ryan Christensen ducked into her pub to escape his screaming fans, never in a million years did Taryn Mitchell think her life was about to change forever. But now, eight months later, after a whirlwind romance, Taryn wakes up in Ryan's Hollywood hotel room to find a diamond to die for on her left ring finger—and her face splashed across the cover of every gossip magazine.
Ryan's very public proposal is catnip to the tabloids, his management team is worried, and Taryn must figure out how a small town girl like her fits into his glittering world. What does it take to make a relationship work amidst telephoto lenses, daily on-set temptations, and jealous fans who will stop at nothing to keep you from walking down the aisle with the man of your dreams?
With no script to follow and no chance for a dress rehearsal, Taryn and Ryan will be forced to take the plunge and risk everything to make their love last.
Christine's Review
OMG! I love Ryan! He is romantic, generous, sweet, sexy and has a heart of gold! I could really go on and on! Love Unrehearsed continues from where Love Unscripted left off. The reader sees how Ryan and Taryn's love has grown over time and hasn't diminished despite the distance and obstacles that these two have faced. In this book, Ryan and Taryn are more comfortable with each other. We see Ryan's possessive side come out more because he loves her so much and wants to protect her. Ryan is not your typical actor in where he is more down to earth and seems to enjoy the simple things in life. For him, his relationship with Taryn and her well-being always comes first. It is a love that is forever, timeless – limitless. He is not afraid to show his love for her despite what his publicist and agents want. Though Taryn doesn't like the acting world and being in the public eye, it's his world and what makes him who he is, so she always encourages him to always make his own decisions, to follow his dreams and his heart – it's what makes him whole.
I loved this book! I couldn't put it down and even today have not stopped thinking of Ryan and Taryn. The author did a wonderful job creating a story where you are so involved and "in it" that you feel like you are a part of their life and story. This book kept a smile on my face and made me feel warmth in my heart because this is what true love should feel like. I loved the epilogue and I love even more that Tina has decided to continue with Mike and Marie (who I also loved in this book and am SO excited to learn more about!) In my eyes, this book was perfection! Thank you to Tina for an AMAZING story that I will read over and over again!
About the Author
What would you like to know? I'm an open book. Have a question? Send me an email. You'll see how quickly we can become friends 🙂
Twitter TinaReber
Website http://tinareber.com
Facebook https://www.facebook.com/authortinareber?ref=ts&fref=ts