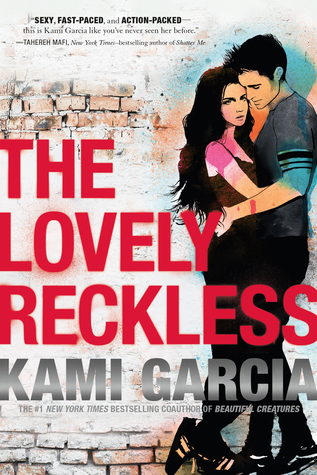 The Lovely Reckless

by Kami Garcia
on October 4, 2016
Pages: 384
Buy on Amazon, Buy on B&N, Buy on iTunes, Buy on Kobo
Goodreads


I've become an expert at avoiding things that could hurt me—which means I will figure out how to stay away from Marco Leone.

Seventeen-year-old Frankie Devereux would do anything to forget the past. Haunted by the memory of her boyfriend's death, she lives her life by one dangerous rule: Nothing matters. At least, that's what Frankie tells herself after a reckless mistake forces her to leave her privileged life in the Heights to move in with her dad—an undercover cop. She transfers to a public high school in the Downs, where fistfights don't faze anyone and illegal street racing is more popular than football.

Marco Leone is the fastest street racer in the Downs. Tough, sexy, and hypnotic, he makes it impossible for Frankie to ignore him—and how he makes her feel. But the risks Marco takes for his family could have devastating consequences for them both. When Frankie discovers his secret, she has to make a choice. Will she let the pain of the past determine her future? Or will she risk what little she has left to follow her heart?
The Lovely Reckless is the first book I have read from Kami Garcia. I don't read a ton of YA, but the blurb caught my attention.

So what's it about?

Frankie Devereux is haunted by her boyfriend Noah's death. Frankie makes mistake after mistake because she simply doesn't care anymore..she just wants to escape the pain. Her mother decides she needs a change of pace and has her move in with her father to go to public school in the Downs while doing community service at the local rec center.
What Frankie doesn't expect is to connect with Marco Leone, a street racer and bad boy that attends her new school.
As Frankie navigates this new life living as a shell of her former self, she must decide whether or not her life is worth saving and if love and caring for another is worth the potential heartache after the past that broke her heart.
So while I loved the mystery surrounding the murder of her ex boyfriend Noah and the mystery behind some of the characters in the story, I found that it was easy for Frankie to quickly move on from the tragedy she experienced. Meaning it seemed easy for her to open her heart again. It just seemed to happen so instantly for my liking. The PTSD that she suffered from early on seemed to disappear halfway through the book and we don't see it again which I found odd because that is not something that goes away so quickly.
I didn't love how she treated the friends that had always been by her side through her ordeal and it seemed so easy for her to open herself up to the new people living in the Downs. For someone who wanted to keep herself guarded because of everything she went through and experienced, it didn't make sense to me that she could lie to the people she grew up with and open up to new people that she barely knew.
I will admit that though I didn't love some aspects of the story, I was completely captivated from the first page and it was hard to put down because I wanted to know what happened..I wanted to solve the mystery and get all the answers. And when I did, I can't say I was totally surprised but all in all it was a good read and I would try this author again in the future.