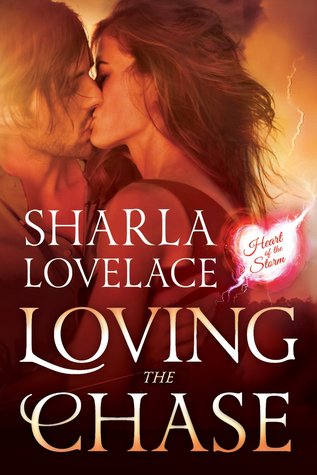 Loving the C

by Sharla Lovelace
on August 25, 2015
Pages: 352
Buy on Amazon, Buy on B&N
Goodreads


Charming, adventurous Zach Chase has always craved the spotlight, and now he's on the hunt for publicity for his family's storm-chasing business. So when a reality TV network approaches him with the idea for a show profiling their work, he can't resist. But the last person he expects to walk into the meeting is the former love of his life.

Production assistant Maddi Hayes was once engaged to Zach—until she was almost killed by a tornado he was out chasing. She walked away from her fiancé and their future together, convinced she'd always come second to his dangerous career.

Dreading the show and anxious over working so closely with Zach, Maddi also knows this project could mean big things for her career. If only Zach weren't still so infuriating…and so infuriatingly sexy. Can they finally let go of their stormy past? Or will the passion still raging between them win in the end?
No one does second chance love stories like Sharla Lovelace. She has the ability to captivate the reader, making you want the characters to reconnect though time has passed and hearts have been broken, having you believing in that first love that you never truly forget.
Loving the Chase is book 1 in the Heart of Storm series and I have to say that this family really drew me in, made me really want to know more about each and every one of them, hoping that all would be able to find their own happiness and love.
So what's it about?
Well, Zach Chase and his family follow storms for a living, hoping to find out why these storms are the way that they are and most importantly trying to find ways to help protect the people in their community from potential disasters.
Maddi Hayes is a production assistant and the TV network she works for has approached the Chase family to produce their reality show.
Being a fly on the wall and watching these two see each other for the first time since they were to be married was like watching the start of a storm. All of the build up and hurt and anger about to unleash after so much time has passed, waiting to see the tumultuous reactions and controversies that would erupt from these two being forced into each others lives again made my heart skip a beat because I knew underneath it all, that despite lost time and hurt, there were such strong feelings that were still present.
I don't want to reveal too much of the story because you should read this on your own but it's sad when things come between lovers and that choices are made that you wish you could undo. Sharla brought tears to my eyes as I experienced the "end" of their relationship. But I had hope as I continued reading as Zach and Maddi's interactions were so awkward yet intense; their feelings were so evident to everyone around them yet they still had to realize them on their own.
Will Maddi end up choosing safety or will she chase the storm?
You will have to read this book to find out!
Bittersweet, emotional, and tearful – I LOVE epic second chance love stories and this is one you don't want to miss!