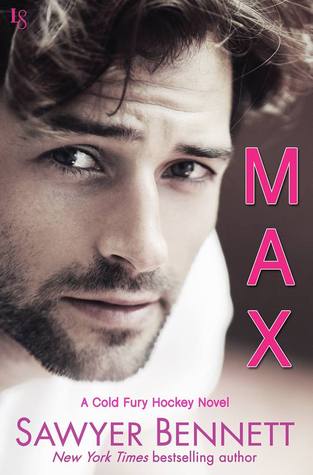 Max

by Sawyer Bennett
on December 13, 2016
Pages: 304
Buy on Amazon, Buy on B&N, Buy on iTunes, Buy on Kobo
Goodreads


The ice is a cold mistress. As the league's most eligible goalie, Max Fournier has access to his fair share of willing puck bunnies, but right now he's more interested in bringing home another championship than a one-night stand. A romantic at heart, Max believes in love; he's just not great at relationships. So when he finally meets a nice girl who's not blinded by his celebrity, he's feeling the heat—and the pressure to save her from herself.

Between working two jobs and raising her sister's kids, Julianne Bradley doesn't have time for sports—or men. All she knows about Max is that he's the sexiest customer to ever grace her gas-station counter. And he sees past her tired eyes and makes Jules yearn for things she can't have: a glamorous fling, a passionate lover, and the time to enjoy both. Max makes her feel like Cinderella, even though Jules has enough baggage to crush a glass slipper. Luckily, he's no prince—only a fierce competitor determined to win her heart.
Sooooooooo I thoroughly enjoyed Max. Max, this NHL goalie will steal your heart from almost the moment you meet him!
How Max finds Julianne in his life was so well done; the first meeting speaks volumes to who Max is and the second well that sets the scene for so much! And I really loved that Jules had no idea who he was, you really have no doubt as you read this one that Jules is falling for Max the man (never is she about Max the NHL goalie).
Ok so I am not telling you anything not in the blurb. Julianne is working her you know what to support her niece and nephews; side note that I must make sure to get in. The children were used masterfully in the story; each had their own personality, each their own relationship with their aunt and over time with Max; truly magical.
Witnessing the developing of many relationships in this book pulled me in.
Max is no manwhore and boy was that breath of fresh air! Oh note when I read this book I was thinking gosh I hope to see Lucas Max's brother take part is some amazing scenes; and yes I might have wanted to strangle him but it was so perfectly done in his story. As I write this review I am jumping up and down inside because now we know Lucas is after Roman (the next book in the series and one that is 5 star read). While we are on the topic of the Fournier family, I loved Mrs. Fournier and I hope we meet the Dad in Lucas's book!
I absolutely adored how the most eligible bachelor theme played throughout this book and how it tied up at the end warmed my heart and yes again made me LOVE MAX, truly a 5 star male lead!
I struggled to find the right ranking for this book as Max was such an amazing character, 5 stars, I easily fell in love with this net minder and continued to throughout the story. But the story was 4 stars. I know this sounds odd but though I enjoyed it, I know I loved the character more than the story …. so I am going to rate it 4.5 stars because Max the character was that great.
And yes as I mentioned Roman is the next book in the Cold Fury series… no you didn't miss anything as readers haven't meet Roman yet but man, not only does Roman work as a book and as an introduction to a new player, the book is EPIC!!! So folks… yes I said it the next book in this series is 5 star must click http://amzn.to/2grBho2
♥ READ THE BOOKS ♥
Book 1 – Alex
Book 2 – Garrett
Book 3 – Zack
Book 4 – Ryker
Book 5 – Hawke