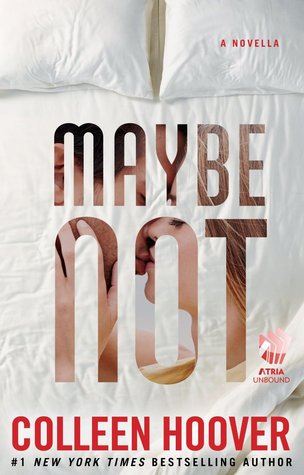 Maybe Not

by Colleen Hoover
on November 24, 2014
Pages: 129
Buy on Amazon
Goodreads


Colleen Hoover, the New York Times bestselling author of Maybe Someday brilliantly brings to life the story of the wonderfully hilarious and charismatic Warren in a new novella, Maybe Not.

When Warren has the opportunity to live with a female roommate, he instantly agrees. It could be an exciting change.

Or maybe not.

Especially when that roommate is the cold and seemingly calculating Bridgette. Tensions run high and tempers flare as the two can hardly stand to be in the same room together. But Warren has a theory about Bridgette: anyone who can hate with that much passion should also have the capability to love with that much passion. And he wants to be the one to test this theory.

Will Bridgette find it in herself to warm her heart to Warren and finally learn to love?

Maybe.

Maybe not.
Who doesn't love a surprise release! I LOVED Maybe Someday and pre-ordered Maybe Not when word came out about this amazing surprise. To say, that I devoured this novella is an understatement. I took a mini break from my scheduled books to fit this novella in because I just couldn't wait to read it.
This is a wonderful companion novella to a book I adored. I enjoyed getting a look inside Warren's head and to find out what were the issues behind Bridgette's anger and meanness. Warren was the perfect antidote to help Bridgette learn to love herself and others. Never knowing unconditional love, Warren will have his work cut out for him to gain her trust. He accepts Bridgette for who she is and I completely loved every scene and every moment.
His crazy antics put a smile on my face and his patience and heart of gold warmed my heart.
Colleen has a way of creating characters that we readers fall in love with and Maybe Not was no different.
4 happy Warren Stars!
Favorite Quote:
"The only difference between falling in love and being in love is that your heart already knows how you feel, but your mind is too stubborn to admit it….But take all the time you need. I have nothing but patience for you."
♥READ THE SERIES♥