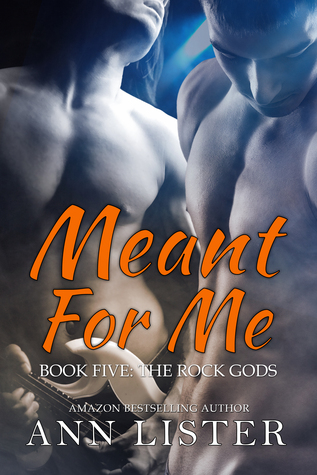 Meant For Me

by Ann Lister
on May 28, 2015
Pages: 270
Buy on Amazon
Goodreads


Tony Wilcox, the quiet keyboard player for Ivory Tower, has always believed he was straight. A sexual encounter with his best friend leaves Tony questioning his heart and the unwavering attraction he has for Jared. Living and working together is no longer enough for Tony... he wants more. He wants Jared as his.

Jared Baker, the bass player for the band, has a past that is getting in the way of him fully embracing what he wants... Tony. He's tried everything to create distance between them, but none of it eliminated the feelings he has developed for Tony.

Trying to suppress the anger and confusion from Jared withdrawing from his life, Tony does his best to get beyond the feelings he has for his friend. When Jared becomes deathly ill, it's Tony that he calls for help and Tony has to decide if he can heal Jared without giving away too much of his heart.

Can best friends find their way to true love and discover if they were meant for each other, or will the challenges of life force them to choose separate paths?
Meant for Me tells the story of Tony Wilcox, the keyboard player for Ivory Tower and Jared Baker, the bass player for the band.
I want to pause and say that at this point in the series, I feel that before you can dive into this book the reader should have read book 2 through 4 in the series. As what is going on between Tony and Jared has hints from book 2 and truly starts to build from there.
When the reader first meets Tony and Jared, they appear to be straight, a bit kinky as they do share women but straight none the less.
Tony and Jared are such close friends that they have their own way of communicating; one that includes nicknames they each only use for each other, calling each other T and JB. I think almost every time I read this, I smiled!
Watching Tony and Jared struggle with the unexpected attraction to each other kept me engaged and rooting for them to open up and take a chance.
When Jared falls off the grid and Tony "discovers" him, my heart was in my throat. I loved how this plot twist was used to show the depth of feelings these two have for each other.
Tony's brother plays an integral role in this story; one I truly do not want to reveal but I will say watching Tony struggle and Jared  be there for Tony not only touched my soul, but has me certain this is a forever love.
Also, as an aside I am so honored to have this book as part of the Keith Milano Memorial May book fundraiser as it touches on depression; portraying it with beautifully painful accuracy.
I also want to say… the  tacklebox and the letter towards the end was… WOW… so powerful; it truly touched my soul and made me smile and shed a tear for Tony and all he has been through.
The epilogue.. the intervention…. was a true teaser … making me very much look forward to Asher and Dante's story in the next book, one that will bring lovers of this series back to the men of Black Ice where the series all began.
♥READ THE BOOKS♥
Book 1 – Fall for Me
Book 2 – Take What You Want
Book 3 – Make You Mine
Book 4 – Looking at Forever
Book 5 – Meant for Me