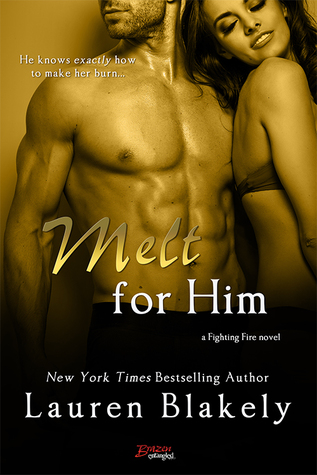 Melt for Him

by Lauren Blakely
on September 8, 2014
Pages: 193
Buy on Amazon
Goodreads


He knows exactly how to make her burn…

Fire captain and bar owner Becker Thomas usually spends his nights alone, trying to escape painful memories from his past. When he meets a sexy, free-spirited brunette outside his bar, he knows he's found the perfect way to forget for one night. But when he later discovers the woman he's itching for another night with is his best friend's sister, everything comes to a halt.

Just out of a toxic relationship, Megan Jansen is only in Hidden Oaks to visit her brother, photograph the firemen's calendar, and then slip off to another adventure. The brooding man who gave her the best sex ever is an unexpected surprise. The problem is, he's her brother's friend and a fellow fireman, and Megan's rule is no firemen. She knows she's going to get burned …but keeping their hands off each other is easier said than done.
I read and enjoyed this book as a stand alone without reading the novella that comes first in the timeline.
Melt for Him tells the story of Fire Captain or as we first meet him bar owner Becker Thomas and Megan Jansen.
Megan is in town for just a short while as she is visiting her brother. Becker doesn't know that, he just knows he has beautiful woman in his bar, one he plans to take home.
Yes, the taking Megan home is hot but what was hotter was as this story moved forward the connection these two share. It becomes obvious that this attraction is more than skin deep but there is a complicated tie, one I will not reveal but one that adds to the story. And although at first it is a point of resistance in the end it comes full circle to create a wonderful happy.
I loved the use of Megan's profession and artwork throughout the story.
The pain these two have from the past overlaps the present; witnessing them push forward because of their strong connection had me rooting for them to make it work!
I adored the epilogue to this book; it was the best happy for this couple. And I loved that it was mutual agreement, both wanting to make this work despite what at first seems like circumstances that won't be conducive to a long-term relationship. Becker and Megan found a way, and I love that!
♥READ THE SERIES♥
Book 1 – Burn for Me
Book 2 – Melt for Him