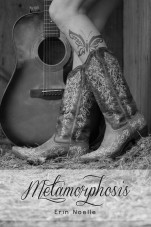 We CAN'T WAIT for the release of Ambrosia on June 25th. Christine reviewed this book during the blog tour so here is Kim's review below to get you pumped up for book 2. Enjoy!!!
---
5 STARS!!!
Synopsis
Scarlett MacGregor has lived a very sheltered life courtesy of her over-the-top controlling parents. Having never been to a co-ed party, much less on a date, Scarlett has relied on her books, her music, and living vicariously through her best friend Evie to keep her sanity as she's patiently awaited her freedom from their rule. When Scarlett and Evie go away to college, Scarlett quickly meets Ashton, Dylan, and later, Mason, and is thrown into a crash course of like, love, and lust. With Evie's help, she must figure out the difference in the three and which one she wants before she ends up without any of them. Metamorphosis is the story of Scarlett's transformation from a young, naive girl to a strong, mature young woman and her search for self-discovery and true love. Recommended for readers 17+ due to sexual content and harsh language. Sequel to Metamorphosis, Ambrosia, set to release later in 2013.
Kim's Review
So there was some buzz going around when Metamorphosis first came out and I decided I'm going to give this one a shot! What I wasn't prepared for was the AWESOME references to some AMAZING reads and the "Book Boy Friend Challenge" that Scarlett & Evie came up with! I was..


Scarlett grew up with the most controlling parents I've ever seen. Thanks to her older brothers antics and her parents high drive to further their career he was left to his own devices. But when Miss Scarlett came along Oh Boy things were quite different. She attended and ALL GIRLS private school all her life. She had no social life and certainly had no interaction with "boys." She did have Evie who lived across the street and remained her BFF since they were 8 years old.
Scarlett finally stands up for herself………………………..


and off to college these two 18 year old young ladies go. They are attending Rice College in Houston and this was quite the change for Scarlett. For the first time in her life she would be able to make her own decisions and with the help of her BFF that's what she did. After a spa day complete with a whole new look & wardrobe! It's time to instigate project BBFC! Now before I move on I have to tell you when dear Scarlett (or Sam as Evie calls her ~ she has an aversion to "nicknames") undergoes a certain little "task" at the spa I was……


OMG! It was so damn funny that I stopped and thought Oh Hell No ~ No Freaking Way I'm Doing It~ So off to the party with Evie's cousin Jess Scarlett gets her first look at Jess & Meg's roommate Ash. Oh talking about an instantaneous connection. Hell ladies this was…………


But what are you supposed to do when you are warned by Jess to stay away from the self admitted "man whore" Ash well you be the good girl you are and stick with the plan to meet "College Frat Boy" and so ladies we meet Dylan. I never really "connected" with Dylan I knew that ultimately they would be just friends but they did………..


Well, things roll along and after a little of this with Ash…….


see a pattern here! Oh yes, but WAIT I forgot to tell you that when I say Scarlett is innocent I mean she is REALLY INNOCENT ~ catch my drift 😉 But Ash & Scarlett must remain just "friends." A few months pass by and things are status quo and BAM OH HOT DAMN WHO IS THAT? Well OMG that's the HOT TATTOOED, PIERCED ROCKER ~ Mason! Oh ladies, he is oh so delicious and he is the lead singer of a very popular local bad! When that bad boy entered the picture I ……………..


Now I hope you are seeing a little problem here. How is it possible that Scarlett has 3 yes THREE FREAKING HOT GUYS to juggle? Well, you are going to HAVE to read this one to find out! There was some of this


you have to figure out with who? or were there multiples? I had couple times where I was…………………………………………


believe me that's quite a feat to leave me that way. But alas things change and the book starts to……………………………..


and the BAM!!!! My WHOLE FREAKING WORLD IMPLODED and BIG FREAKING TIME! Ladies I literally…………………………………..


it was HORRIBLE, AWFUL, DEVASTATING and oh so wonderfully written. My God, I didn't see it coming and Erin did such a good job pulling the emotions out of me. When I absorbed what happened I got………..


I was so…Oh it wasn't fair…………WHY? But you will experience this for yourself! By the end of this book I ………………..


WTH? Did I just read? Wait, I processed and …………………..


Metamorphosis is a 5++++++++++ star read for me! Fantastic coming of age story written with such depth that I'm utterly in love with this book. Scarlett experienced more at 18 than she did her whole entire life and like the "Butterfly" she is she had ARRIVED! Oh yes, I can't wait for more! Erin, damn girl, FAN-FREAKING-TASTIC!!!!!!!!
For more info on the author, visit