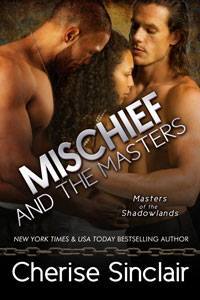 Mischief and the Masters

by Cherise Sinclair
on November 15, 2016
Buy on Amazon, Buy on B&N, Buy on iTunes, Buy on Kobo
Goodreads


She wants a short, sweet Master. One Master.

The two devastatingly dominant Drago cousins have other ideas.

Her life destroyed by a stalker, Uzuri Cheval starts anew in Tampa and joins the exclusive Shadowlands club. Unconvinced of her claims that she can overcome her fear of big men without help, Master Z gives her a time limit. And she is improving--until she hears the stalker is out of prison. Now her time limit is up, and the Masters will intervene, which is okay--as long as whoever helps her is short. Okay, sweet and gentle would be good, too.

But two Doms? Dangerously experienced and dauntingly powerful cousins? No way.

Having volunteered in every hellhole in the world, Dr. Alastair Drago is ready to settle down. Detective Max Drago has joined him and, once again, the cousins share everything. A house, lives, problems…and whatever submissive catches their interest. One mischievous submissive has definitely caught Alastair's. However, having been burned by a woman, Max remains detached…until little mischief's troubles turn deadly.
First, I can't believe it's been 12 books and second, hats off to Ms. Sinclair for hitting the bestsellers list with Mischief and the Masters. I am not sure it is ever something I have written in a review before but I feel compelled to say whoo hoo for this interracial menage that did!
Yes, Mischief and the Masters is an interracial menage, as many of you know I love a menage read done right and this one so was! The author had me believing these Drago cousins were meant to share a woman and that Uzuri was that woman.
As is typical with this series, the author does a wonderful job of layering the sex in a way that builds the story and the BDSM in a way that adds to the story.
Alastair and Max as Doms each offer Uzuri something she needs as she does them too.
Oh, I should add I love the use of fluffy secondary characters throughout this story. They added to the story, bonded the characters and in one instance allowed a window into the soul when the character wasn't so honest     (nope not telling read the book).
Thank you, Ms. Sinclair for the visit with the Shadowland's cast and the dungeon and for another set of Doms to enjoy!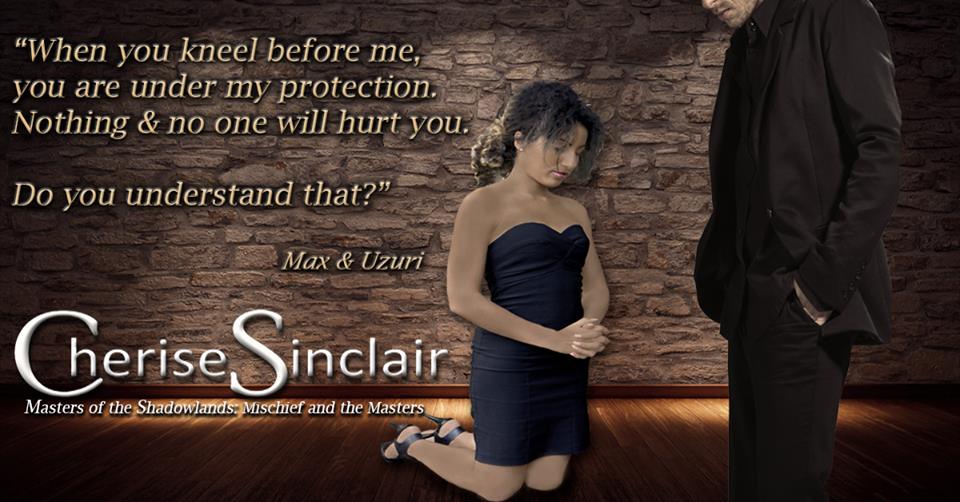 You can read an excerpt of Mischief and the Masters on Ms. Sinclair's website – ENJOY!
http://cherisesinclair.com/mischief-and-the-masters/