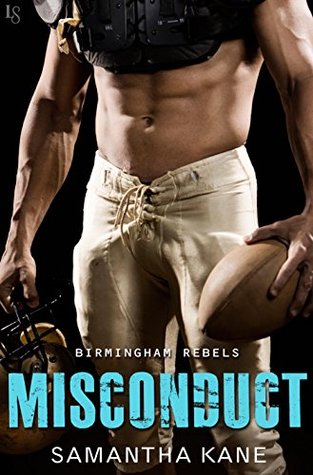 Misconduct

by Samantha Kane
on July 25, 2017
Pages: 288
Buy on Amazon, Buy on B&N, Buy on iTunes, Buy on Kobo
Goodreads


The Birmingham Rebels play both sides of the field, proving that the hottest action isn't always in the arena.

Rookie running back Tom Kelly loves the perks of football stardom. Men, women—there's no shortage of companionship for a pro athlete who's hot, young, and willing, and Tom is definitely willing. But deep down he wants a committed three-way relationship, especially if the female in the middle is Carmina de la Cruz. The undeniably sexy Army veteran may not say much, but her body speaks loud and clear.

After a traumatic tour in Afghanistan, Carmina is struggling to regain her speech and rebuild her life. More than anything, she wants to feel like a woman again. Tom may be a wholesome All-American, but he knows just how she needs to be touched—and he's not the only Rebel who arouses her interest. With his scorching intensity, Tom's best friend leaves her wondering if two players might be better than one.

Danny Smith is no stranger to his team's kinky reputation. He gave in to temptation once, but he's not going down that road again. Sure, Carmina's curves promise pleasure, but her eyes guarantee it comes with baggage—and Danny has enough of his own. Still, giving up control can feel so good. And when it comes to everything Danny craves, Carmina and Tom make the perfect team.
I loved that this book showcased a female lead who was ex-military with PTSD. Carmina struggles were tangible as was her desire to push forward with her life.
Tom and Danny were both heroes who I enjoyed reading about; the connection between them and Carmina was tangible to the reader.
This menage worked for me, I genuinely believed these three belonged together.
I really liked that this relationship didn't occur in a vacuum. All understood a menage relationship comes with a set of challenges layered by the fact that the two men are professional football players.
The sex in this book is hot, with all sorts of action (this is a m/m/f menage meaning the men touch). The sex added to the story and was used well to build emotions and connections between all three.
I loved how the men finally opened up to each other.  This menage is complex, the author does a wonderful job at allowing the reader to feel each characters struggle. The way the three finally come together—well that I adored!
The supporting cast in the book—the other men on the team and football itself and its culture make this book feel like its own world—one that kept me reading the whole day while enjoying some summertime sunshine out by my pool.
It should noted that I didn't read all the prior books in this series.