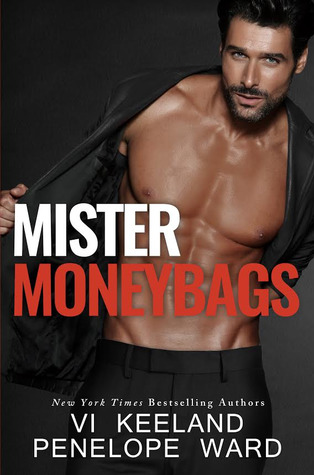 Mister Moneybags

by Vi Keeland, Penelope Ward
on April 8, 2017
Pages: 300
Buy on Amazon, Buy on B&N, Buy on iTunes, Buy on Kobo
Goodreads


A new standalone from New York Times bestselling authors Vi Keeland and Penelope Ward.

I met Bianca in an elevator.
She was on her way to interview me when we got stuck.
The beautiful, raven-haired reporter assumed I was a delivery guy because of the way I was dressed.
She had no clue I was really Dex Truitt, the wealthy, successful businessman she'd dubbed "Mister Moneybags"—her afternoon appointment.
Bianca told me how much she hated Dex's type—snobby, over educated, silver- spooned men who didn't appreciate the simple things in life.
So, after the elevator finally started moving again, I cancelled the interview and let her believe I was someone I wasn't—a bike messenger named Jay. I loved the way she looked at the fake me and didn't want it to end.
I began dating her as "Jay"—all the while letting her interview the real me over email.
I didn't expect that our chemistry online would be just as hot.
I didn't expect the mess I'd gotten myself into.
I didn't expect that Jay and Dex would fall in love with her.
And she was falling for two men.
Only, both men were me.
And when she found out, we were both going to lose her.
Nothing could have prepared me for that day. And I certainly wasn't prepared for what came after.
All good things must come to an end, right?
Except our ending was one I didn't see coming.
I loved the story of Dex Truitt and Bianca George in Mister Moneybags. It was filled with heat, emotion, deep connections and a story that kept my engaged from the moment I opened the book!
Yes, Dex lied… I tell you that because the blurb does but oddly I always understood why he lied. Jay was cute but after almost the first exchange I was sure Bianca wanted DEX and I loved this about the book. Yes, Jay was adorable but the banter Dex and Bianca shared, the give and take had me rooting for them instantly… ok, ok this is not a menage or a real triangle because was the blurb tells the reader Dex is Jay.
I was happily surprised at my instant love for Dex, yes a man who was lying but a man who in his own head was jealous of himself, which was so much fun! But more importantly it left me with no doubt that Bianca was different for Dex, different than any other woman who had been in his life prior.
I will NOT share anything not in the blurb. I will say the plot, the story in this book was wonderfully engaging, it kept me wanting to read more, it had me rooting for Bianca and Dex. I will say the way family wove deeply into the plot, it added depth, it crafted a world that had me thinking about it in the moments I had to put this book down to live life. The connection Dex and Bianca built throughout the story, built to a deeper emotional level and I so enjoyed knowing this was more than sexual attraction.
The world crafted, the characters developed, the story that unfolded… I loved it all!
I also feel I need to add there were times in this book I had to purposely slow my reading down and remind myself to end the words as I so wanted to know what was going to happen next.
This book is so much more that what blurb says, SO much more! I hope you will dive in and end the ride as the past and the present collide and those left in its path have to deal with the consequences.