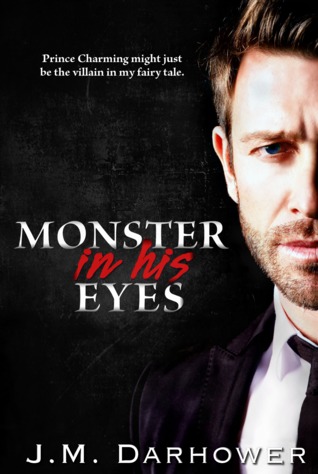 Monster In His Eyes

by J.M. Darhower
on April 27, 2014
Pages: 350
Buy on Amazon
Goodreads


Ignazio Vitale is not a good man.

I suspect it, the first time I see him, sense the air of danger that surrounds the man. He has a way of commanding attention, of taking control, of knowing what I'm thinking before I even do.

It's alarming and alluring. It's dark and deadly. It's everything I've ever wanted but the last thing I truly need. Obsession.

It doesn't take him long to draw me into his web, charming me into his bed and trapping me in his life, a life I know nothing about until it's too late. He has secrets, secrets I can't fathom, secrets that make it so I can't walk away, no matter how much I beg him to let me go. I see it sometimes in his eyes, a darkness that's both terrifying and thrilling. He's a monster, wrapped up in a pretty package, and what I find when I unmask him changes everything.

I want to hate him.

Sometimes, I do.

But it doesn't stop me from loving him, too.
So admittedly I have not read any books yet by J.M Darhower though I have Sempre on my TBR list and have always heard such wonderful things about her books.  After reading Monster In His Eyes – HELLO WHERE HAVE I BEEN?!?!?!  This book had my heart pounding from the excitement and thrills it evoked in me and let's also talk about how sexy, emotional, dark and gritty it was!  This book had it all and I am happy to say that this author has become a new must one click ASAP on my list of favorites!
I was completely sucked into this book from the prologue to the very end.  This book was wonderfully brilliant in every way – the writing engaging, so well thought out; the characters so intense, connected and steamy.  Monster In His Eyes is a book that will keep you enthralled and vested to the very end, ignoring the world around you so you can stay immersed in this dark love story between a college student Karissa and the very hot and mysterious Ignazio Vitale (Naz).  I devoured this book!
Naz is much older than Karissa (he is 36 to her 18) and the attraction between them is palpable.  Naz is typically not a relationship kind of man but everything changes for him when he meets Karissa and he wants her, despite his secrets – wanting to take care of her, protect her in every way and love her.
I LOVE a dark hero and Naz is pretty high up there in my book – he is surrounded by mystery, we don't know what he does for a living, is so complex, confident, controlling and powerful.  He is indeed a monster but I can't help wanting to know more about the man underneath it all.  Karissa is unknowing to many aspects of his life but she can't help but be drawn to him despite his seemingly dangerous persona, she can't help but want to be controlled by him in every way.  Karissa grew up with an overbearing mother without a father because he left her at an early age, moving from place to place because of demons her mom is running from.  She falls quick for Naz which I understand somewhat because of her need for something real, something stable and something hers.
The sex between these two is beyond HOT – so intense and dark yet Naz has a tender side which was beautiful to experience.  Seeing these range of emotions from him made me want to know him more, to know each layer and I spent a lot of the book trying to figure him out because he was a complete puzzle to me.
I have to say that it has been a while that a book has kept me so intrigued with all the mystery and suspense making me question everything until the very last page.  I had many surprises throughout my read, keeping me on the edge of my seat when we finally learn some of Naz's secrets…and OMG wait til you read this to find out!  I SO LOVE when an author keeps you guessing, playing with your mind and emotions during a read, giving us something totally unexpected and alluring.  J.M Darhower did just that with this book and it is hands down one of my favorites for this year!
So yes there is a book 2 in this series, this book didn't end with a cliffhanger but are you left wanting more about this couple?  That's a YES YES YES!  I love when a book leaves me with complete book hangover, thinking about it days later and even now writing this review, making me wish for time to speed up so that I can pick up Torture in her Soul releasing Fall 2014.  I CAN'T WAIT to see how this ends…this is a MUST READ..one click today – you will not regret it!