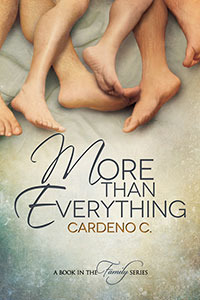 More Than Everything

by Cardeno C.
on November 4, 2013
Pages: 234
Buy on Amazon
Goodreads


As a teenager, Charlie "Chase" Rhodes meets Scott Boone and falls head over heels in love with the popular, athletic boy next door. Charlie thinks he's living the dream when Scott says he feels the same way. But his dreams are dashed when Scott moves unexpectedly and doesn't return.

Years later, Chase meets brash and confident Adan Navarro, who claims all he wants is a round between the sheets. When they're still together after eight months, Chase is convinced Adan returns his love. But then the time comes to be open about their relationship, and Adan walks away instead.

Time heals all wounds, but when Charlie runs into Scott and Adan and realizes the only two men he's ever loved are now in love with each other, his heart breaks all over again. Scott and Adan tell Charlie they want him back, but Charlie doesn't know if he can trust two people who have hurt him so deeply. And even if he can, why would Scott and Adan want Charlie when they already have everything with each other?
This is a book in the Family Series.  These books can absolutely be read stand alone as the timelines overlap for many so reading stand alone does not affect the readers experience.
I loved Charlie, Scott and Adan's story.  This is the story of Charlie Rhodes as he tells the reader the story of his life, one that starts out with his high school love Scott Boone and brings the reader to the love Charlie finds a few years later with law student Adan Navarro.
This book pulled me right into it and right out of a book funk.  From the moment I opened the book, Charlie's voice pulled me right in as he takes the reader on a journey as he scrapbooks his life.
Yes, this is a menage; a m/m/m I don't read many in this genre but let me say this one was amazing, so well done; the end was truly perfect for these three men.
For Charlie, this is a dual second chance romance. I am not telling you anything not in the blurb but for Charlie the question becomes what happens when you find out the only two people you ever loved, love each other now?
The story allows the reader to experience Charlie's journey first hand. I loved him and Scott discovering their sexuality together, the slow progression from friendship to love, to lover. And my heart broke when Charlie said goodbye to Scott.
As Charlie brings the reader to the next chapter in his life, I was excited when I heard Adan's voice. Adan is much the opposite of Charlie and seeing the world through his eyes offered a unique perspective. Adan at this point is so career driven he is unable to see anything else. I won't tell you how or why but I will tell you that I did not like Adan very much toward the end of this section, but it did fit the man painted at this point in his life.
We yet again hear from Charlie as life circumstances cause his life to be uprooted. And then when Scott reappears, hearing from Scott makes me love this book even more. Scott's voice was powerful and you now see him as a man instead of the young adult from his high school days; his career development was really well done.
The author manages to allow us to hear from Adan and Scott all while still hearing pieces in Charlie's voice; these three POV's were masterfully woven together to create a tapestry of happy perfect for this trio.
The happy developed slowly and I adored how Adan and Scott wanted to care for Charlie; sex was not the priority. That made it even hotter when the sex did some and oh yes it is hot!
I count on CC for amazing dialogue; something this author yet again delivers in spades; Charlie asking his sister Rachel for BJ tips is classic and when Charlie asks the bartender for a lemon drop "Should I rim you" is the  greatest bartender response ever and and toward the end THE LUCKIEST GUY ever lined so play off of Scott's anxiety in that moment and yes while I type this I am smiling remembering this scene play out.
This m/m/m story truly works.  The author manages to give each man his own voice; each felt true to the character created and compelled me to want to read more.
I loved Charlie's scrap booking as the story telling device. In the end the pieces all work together and although unconventional this story works big time!!
Truly a hidden gem that pulled me out of a book funk!