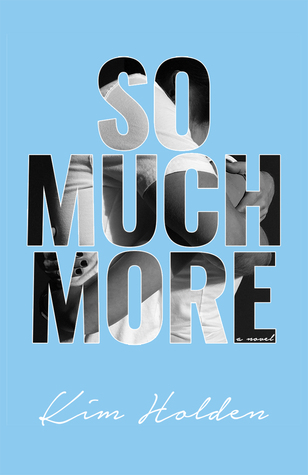 So Much More

by Kim Holden
on March 29, 2016
Pages: 305
Buy on Amazon, Buy on iTunes
Goodreads


Love is strange. It comes out of nowhere. There's no logic to it. It's not methodical. It's not scientific. It's pure emotion and passion. And emotion and passion can be dangerous because they fuel love…and hate.

I'm now a reluctant connoisseur of both—an expert through immersion. I know them intimately.

When I fell in love with Miranda, it was swift and blind. She was the person I'd elevated to mythical status in my head, in my dreams.

Here's the thing about dreams, they're smoke.

They're spun as thoughts until they become something we think we want. Something we think we need.

That was Miranda. She was smoke.

I thought I wanted her. I thought I needed her.

Over time reality crept in and slowly dissected and disemboweled my dreams like a predator, leaving behind a rotting carcass.

Reality can be a fierce bitch.

So can Miranda.

And I can be a fool...

who believes in dreams.

And people.

And love.

Note from the author: Due to strong language and sexual content, this book is recommended for mature audiences only.
OMG guys! So Much More was everything I was hoping for and more. Kim Holden is a literary genius and I will read everything and anything she writes.
Written in three POV's, I was completely sucked into this book from page one. Completely riveting, mesmerizing, and addicting,  So Much More tortured my heart and soul. I don't think I have felt emotions like this in a while – I cried, I was so so angry, and I felt complete happiness and love. This is without a doubt another addition to my Top Faves of 2016. And not only because of the story itself but everything was so realistic, so heartfelt, so true to what can happen in life – this is a story about life, love, family, decisions that can impact your family, and what you do with what fate and life has given you.
So what's it about without giving away too much info?
I will be honest and say that this book reminded me a bit of the Love Me With Lies series by Tarryn Fisher. Those who know me know I completely LOVE this series. I don't think I have felt such hatred for a main character since Leah from that series. Miranda McIntyre is a complete and utter bitch in So Much More. She is calculating, selfish and cold to her husband Seamus' warmth and goodness. I instantly hated her like how I hated Leah and my heart completely hurts for the pain she has caused for her husband and three children.
Now Seamus and Miranda have been together since college and sometimes in life things just change. Seamus is the best kind of book boyfriend – he is a kind and caring father to his children, his devotion to his marriage and family. Unfortunately Seamus has married the Wicked Witch of the West, is battling an illness all the while trying to be a good single dad to his children while trying to make ends meet.
I will be honest and say that there were times while I was reading this book that I wanted to die inside for some of the things that happened. I can't tell you what but it was gut wrenching and really showcased how sometimes humanity can just fail.
The third POV comes from someone completely unexpected. Faith is a fellow tenant in the apartment complex that Seamus and his children live in. Faith is younger than Seamus but provides a different look at life for him – she gives free hugs to strangers, she has a free spirit and kind soul. Yes, she has a past of her own that she doesn't want to share yet with Seamus but she gives Seamus a look at what a life can be like outside of a bad marriage, she gives him moments to laugh about; she gives him reasons to live and fight.
So much happens in this book that pulled at my heartstrings. I believe in fate and I also believe in "what goes around comes around". The journey was difficult for everyone in this book but in the end, the lessons learned, the ability to get do-overs and try better, the appreciation that one gets when thinking of their life and all of the blessings they have in front of them made me love this book even more.
Readers looking for a book packed with emotion, a book that will touch your heart and soul should look no further. So Much More is a masterpiece.