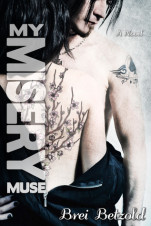 4 STARS!!!
Summary
First young love gets sidetracked by dreams that take them on two different journeys, but an unknown bond brings them back together again. Devi Porter an up-and-coming tattoo artist in Dallas is trying to live her life as best as possible, but never able to forget the love she had with Seth. Seth a bassist for the popular band My Misery Muse is struggling with his fellow band members with the lifestyle that he now lives. The band decides to go home to Dallas to work on their latest album as well as to work out their problems out from under the glare of the media. Seth and Devi meet up again and both realize they have a lot to work out between themselves as well. As they get reacquainted life and obstacles are thrown at them at every turn, are they able to overcome them to become the family neither really had?
Christine's Review
What a great debut novel!  The author reached out to me prior to the book's release and provided me with an ARC copy for an honest review.  And I am SO happy that she did!  Dev and Seth grew up together and experienced young love.  Seth is the best friend of her brother, Drake and they play in a band together.  When Seth is picked up by a music label, he and his band move to LA to begin recording their first album.  Dev does the right thing in encouraging him to go because they are young, they have their entire lives ahead of them and she doesn't want to hold him back for fear that he may grow to resent her.  What she doesn't realize is that she is pregnant.  She tries to reach out to him on multiple occasions to no avail and decides to move ahead with her life despite the pain because she is a mother now and her child is more important than chasing after a guy.  Dev matures early and has to take on all of the parental responsibilities but she does it with complete success.  When Seth comes back after two years to record his next album closer to home, he learns that he has a child and goes about trying to win his first and only love back and to try to have a family.  Will Dev allow him back in her heart and into her new life that she has built with her child?  Will Seth stay after the album is complete?  With all of the obstacles that this couple has faced, will they be able to trust one another, mend their pasts and broken hearts and find love again? Can they risk their hearts again?  Well, I am not going to answer any of these questions for you!  You will have to go and find out!  Buy this book and support this new author!  She is already working on Book 2 and I cant wait to find out what happens next!
It's worth mentioning that I enjoyed that the story was told in each character's POV.  It allowed me to better understand each character and what they were thinking and feeling.  I experienced a lot of emotion with this book which I found to be exciting coming from a new author who I have never read before.  I have to say that the sex was pretty hot and the epilogue was beyond perfect!  Great job Brei!
Brei provided me with a couple of pictures of her inspirations of Seth and Devi – here you go!
About the Author
Stay at home mom to one very interesting little boy. I have been writing since 7th grade when my English teacher turned me onto poetry and never stopped. Thank you Mrs. Williams. In high school I had yet another English teacher inspire me to start writing short stories where I found my first true love, turning words into something so simple yet complex that it can move other people to love it or hate it, but in the end to feel emotions about something I created.
Twitter breibetzold
Website http://mymiserymuse.blogspot.com/
Facebook http://www.facebook.com/amy.lane.167?ref=ts&fref=ts#!/brei.betzold