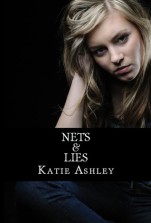 Katie Ashley is giving away one ebook copy of Nets and Lies.  Leave a comment on our facebook page and a lucky winner will be picked tonight! 
4 STARS!!!
Summary
Always awkward in her 5'10 frame, Melanie Reeves finds her saving grace through basketball. Not only is she the varsity team captain, she's the pride of Coach Thompson, who holds the keys to a college scholarship. Melanie has also found 'courtly' love with Will, Coach T's handsome, ball-playing son. When Melanie is on the court, everything is perfect….until she is forced to face an opponent who doesn't play by the rules.
Jordan Solano's power lies in her beauty and sex appeal. Never afraid of breaking the rules, she engages in a scandalous flirtation with the school's married basketball coach. But the flirtation quickly turns into accusation, and Coach T's job and reputation are placed in jeopardy after Jordan charges him with rape. Jordan's own reputation has the school administration unwilling to believe her. That is, until she makes a startling claim – she's not the only victim.
Suddenly, all eyes are on Melanie, and it isn't for her amazing free-throws. A man's job, a girl's reputation, and her boyfriend's entire world now rest in Melanie's hands. She has to decide: keep her secrets and protect her future, or put an end to the lies…and lose everything.
*This book is New Adult and contains mature subject matter. TRIGGERS for rape survivors and sexual abuse victims***
Denise's Review
Nets and Lies tells the story of two young women who encounter a monster, not the kind from scary movies with masks or axes, but the kind you almost never see coming, the trusted adult the community respects.
Melanie Reeves is the star of the girls' basketball team.  She has a wonderful boyfriend in her coach's son, Will. Will is kind and patient and so understanding of Melanie taking their sexual encounters slowly.
Jordan Solano is the girl who uses sex as a weapon.  She likes the power and thinks she can remain detached from real emotions.
When the actions of another cause these two ladies worlds to collide, they will both never be the same again.
Ms. Ashley's portrayal of Melanie's devastation will break your heart; the strength she finds within and from those around her will build you back up again. 
Jordan is forced to look within herself and again Ms. Ashley gets the reader to feel; feel for what Jordan hopes to make of her life. In walks a young man into her life also seeking redemption, Nick. Nick is a wonderful addition to Jordan's existence and he helps her see everything that is special about her.
Ms. Ashley deals with some heavy topics and she does a really good job at showing the impact it has on all of those who touch this cast of characters.
The epilogue for me was so well done, it was real and powerful.  Will's life was impacted by so much of what occurred and his honesty and emotions created for a wonderful ending.
I am looking forward to Ms. Ashley's next book and continuing to watch her career grow.
About the Author
Katie Ashley is the New York Times Best-Selling author of The Proposition. She lives outside of Atlanta, Georgia with her two
very spoiled dogs and one outnumbered cat. She has a slight obsession with Pinterest, The Golden Girls, Shakespeare, Supernatural,
Veronica Mars, Designing Women, and Scooby-Doo.
She spent 11 1/2 years educating the Youth of America aka teaching MS and HS English until she left to write full time in December 2012.
She also writes Young Adult fiction under the name Krista Ashe.
Twitter  katieashleyluv
Website http://katieashleybooks.blogspot.com/
Facebook http://www.facebook.com/katie.ashley.129
Goodreads  http://www.goodreads.com/KatieAshley