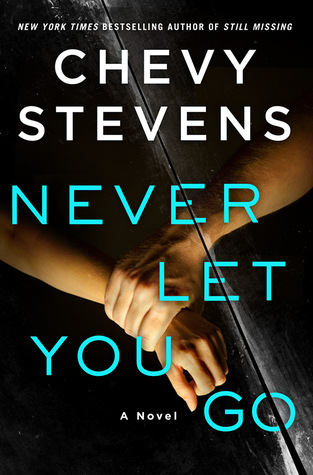 Never Let Go

by Chevy Stevens
on March 14, 2017
Pages: 384
Buy on Amazon, Buy on B&N, Buy on iTunes, Buy on Kobo
Goodreads


Eleven years ago, Lindsey Nash escaped into the night with her young daughter and left an abusive relationship. Her ex-husband was sent to jail and she started over with a new life. Now, Lindsey is older and wiser, with a teenage daughter who needs her more than ever. When her ex-husband is finally released, Lindsey believes she's cut all ties. But she gets the sense that someone is watching her. Her new boyfriend is threatened. Her home is invaded, and her daughter is shadowed. Lindsey is convinced it's her ex-husband, even though he claims he's a different person. But can he really change? Is the one who wants her dead closer to home than she thought?

Chevy Stevens targets her readership with a novel that hits all the notes they come to expect from her—and ratchets up the stakes even more in a novel that explores the darkest heart of love and obsession.
My goal this year was to try different books outside of the romance genre and to read new authors. When I saw the blurb for Never Let Go I had to read this one because it caught my attention immediately. This is my first Chevy Stevens book and WOW – what a total nail biter! This is an author I definitely will be starting to follow and read more of.
Before I started blogging, I read a lot of suspense type of books so Never Let Go was right up my alley. Love, obsession, intrigue – Ms. Stevens takes readers on the journey that they will never forget.
Everything you need to know about the book is in the blurb. I really liked the way that this story was told and enjoyed the look into Andrew and Lindsey's marriage and how their relationship progressed over the years. It was heartbreaking and sad for me to literally feel the abuse that Lindsey felt at the hands of her husband and the terror that she would get hurt because of his jealous, alcoholic mean streak. It was so hard for me to read and to see that someone who she loved and trusted with her whole heart and with the safety of her child could hurt and manipulate her so – it truly pulled at my heartstrings as I hoped and prayed that nothing bad would happen to them.
The story continues ten years later with Lindsey and her daughter living a totally different life. Lindsey is more of an independent woman, taking self defense classes and caring for her now grown daughter. But Andrew wants a relationship with his daughter. And all of these crazy creepy things are happening around them making me feel as though Andrew is back to his terrorizing ways and trying to scare the woman that he once loved. And what's worse that he is trying to build this relationship with his daughter and building her trust in him when all the while I am like NOOOOOOO! He is BAD, BAD, BAD!!!!
So how does it all go down? Well of course I can't tell you but I have to say this – OMG I LOVED, LOVED, LOVED the suspense with this book. I could not put it down for one second as I was completely addicted to what was going to happen next, rapidly turning the pages because I wanted answers as to what was going on.
Everyone and I mean EVERYONE was a suspect and I had so many theories and different ideas of who it was, why it was happening, what was going to happen next. And you know what??? I WAS COMPLETELY WRONG! LOL I had my sight set on the one who I thought it was that it came out of left field when it was something I never saw coming.
I do have to say that for all of my preconceived notions that I was actually upset about something that happened because all I could think of was what could have been…I know I am being vague but seriously READ THIS BOOK.
I love suspense books because they keep my heart racing, they keep my mind guessing and I am excited and sitting at the edge of my seat wondering who did it and every time an author is able to shock me, I am just in complete awe.
I am a new Chevy Stevens fan and I look forward to reading more from this author. This is a total must read for suspense fans!

Read an excerpt of Never Let Go from the author's website HERE.