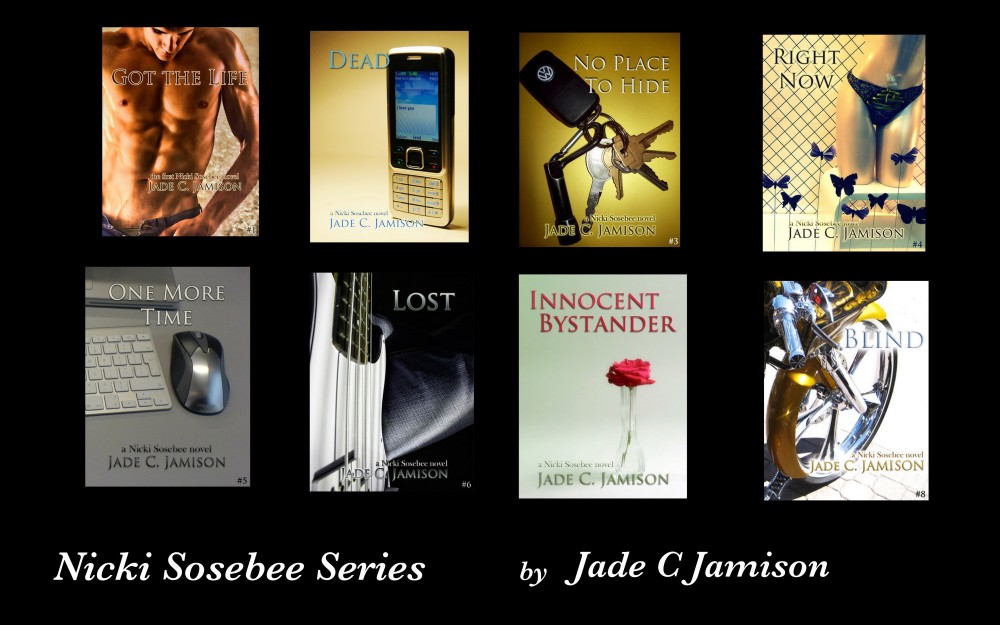 Today we are pleased to share a special review for Jade's Nicki Sosebee Series. This review was done by our special
guest reviewer Jen Gerschick.
Buy links can be found below! Enjoy!
---
Book 1 – Got the Life

Synopsis
Nicki Sosebee wants her first headline, but she doesn't want it to read "Reporter found dead."
Nicki Sosebee has been working low-paying jobs ever since she finished school, but now that she's older, she wants more. She's a novice reporter trying to learn the ropes. Just as she's getting her career goals on track, though, her love life gets worse and worse. Sure, she has no problems picking up good-looking guys for brief flings, but relationships? Out of the question. Maybe it's because Sean, her gorgeous best friend, just can't see her as more than a buddy. So when Sean encourages her as she pursues her first headline-producing story, Nicki realizes that her life's pretty sweet…if only she can live long enough to see tomorrow's front page.
Warning: Not for the faint of heart! This book contains explicit sex and naughty language. Proceed with caution…if you dare.
The Nicki Sosebee series has been compared to Janet Evanovich's Stephanie Plum series by more than one reader.
Book 2 – Dead

Synopsis
Nicki Sosebee's adventures continue…
Nicki's love life might suck, but her sex life is great. The only way both could be spectacular would be if her best friend Sean would look at her as more than just a friend. Nicki knows she's stuck in the friend zone, so she focuses her energies on her job. She's becoming a better reporter every day, so when her editor asks her to interview a local politician, Nicki is thrilled. But when the politician's secretary ends up dead, it's anybody's guess as to who did it. Nicki has a few ideas, though, and finds herself in deep trouble as she pokes her nose where she thinks it belongs.
Warning: Not for the faint of heart! This book contains explicit sex and naughty language. Proceed with caution…if you dare.
Book 3 – No Place to Hide

Synopsis
The hottest Nicki book yet!
The Winchester Tribune publishes an article warning the women of Winchester that there is a sexual predator on the loose in the streets of the town they once thought was safe. Danger doesn't stop Nicki, though, and it's not till it's too late that she discovers the criminal in the place she least suspects. And there's no one who can save her this time. Meanwhile, she decides that her new love interest Jesse might be worth more of her time…but he's not making it easy.
Warning: Not for the faint of heart! This book contains explicit sex and naughty language. Proceed with caution…if you dare.
Book 4 – Right Now

Synopsis
Nicki is becoming a better reporter, so much so that her boss Neal leans on her more and more to get the good stuff. So when a rash of robberies hits the downtown Winchester area, Nicki is reporting the damage…and probably getting a little too close for the bad guys' comfort. As if that weren't enough, Nicki finds herself in a full-fledged love triangle between Jesse and Sean…and she can't bear to choose between them.
Warning: Not for the faint of heart! This book contains explicit sex and naughty language. Proceed with caution…if you dare
Book 5 – One More Time

Synopsis
Nicki notices there is a big problem with the homeless population in Winchester, and the local shelter doesn't have any more room for them. Nicki becomes irate when the City Council decides to do everything in its power to drive the homeless out of town, because she has other ideas. Meanwhile, she and Jesse are still going strong, if they can keep everyone else out of their business.
Warning: Not for the faint of heart! This book contains explicit sex and naughty language. Proceed with caution…if you dare
Book 6 – Lost

Synopsis
Nicki and Jesse have broken up again, but this time it's for good. She realizes how much Jesse meant to her when she finds it hard to fly solo. And she's lost her touch, striking out with one guy after another. Her BFFs Brandy and Jillian try to take her mind off her pain, and Nicki finally reveals to them why she's never been able to forget about Sean, but she doesn't miss the opportunity to get down and dirty with a local rock star. In the meantime, the teenage daughter of a Winchester lawyer is kidnapped, and Nicki reports on the crime, hoping readers can offer clues to the authorities and find the girl…before it's too late. But what Nicki discovers leaves her horrified.
Warning: Not for the faint of heart! This book contains explicit sex and naughty language. Proceed with caution…if you dare
Book 7 – Innocent Bystander

Synopsis
The longest Nicki book is also the sexiest!
Nicki, now disillusioned, realizes that she is but a tiny cog in a big machine, and she begins to feel like she's going to be swallowed up. As she opens her eyes to all that's around her, her life begins to fall apart. She loses her car, her apartment, and almost loses her job, all to circumstances beyond her control, and the bad guys have nothing to do with it. But, through adversity, Nicki learns what she's made of. She begins to dig deep into the underbelly of Winchester, and she finds that the drug trade isn't just for the junkies.
Keep a fan nearby 'cause this Nicki book is hot, hot, HOT!!!
Warning: Not for the faint of heart! This book contains explicit sex and naughty language. Proceed with caution…if you dare
Book 8 – Blind

Synopsis
Nicki is angry. Now that she's seen what the people in power will do to keep their control, she knows she has to play it safe. She's threatened to topple their thrones and they're feeling nervous. But she's also feeling guilty about the murder of a prostitute whom she thinks she was responsible for, so she makes it her mission to help all the women of the night working in Winchester. And she does it the only way she knows how—by reporting what she's learned. And with Sean behind her, she knows she can do anything she's set her mind to.
Book 9~ Fade (Coming Fall of 2013)
Synopsis
Nicki has come to realize that she can't fix everything wrong with the world, at least not by confronting the bad guys head on, so she intends to educate people by tackling one small problem at a time. Now, there's a woman on city council who's growing a little too big for her britches and stirring up trouble in Winchester, dividing citizens into two clear sides—her side and the other—and Nicki plans to expose her for what she is. In the meantime, Nicki hurts Sean and risks losing him for good
---
Jen's 4.5 STARS for the entire series!!!
I would first like to thank the ladies at Shh…Mom's Reading for the opportunity to review this wonderful series, by an author I so admire! Last February, after a recommendation from a friend, I read the book Bullet by Ms. Jamison. After I was finished, I knew Jade C. Jamison had quickly and permanently cemented her place in the list of my top authors! So when I finally was able to get some downtime, I couldn't wait to dive into the Nicki Sosebee Series!
This series has everything great books should have. It's funny, sexy, smart, and has a "who done it" feel with each book of the series. When we first meet Nicki Sosebee, pronounced "Sohs-bee" with only two syllables, in the first book "Got the Life", she is an independent, harding working, strong, clever, and sexy 29 year old. She is working 3 jobs just to make ends meet, and has been trying to get her big break as an investigative reporter for the Winchester Tribune in her hometown. In each of the 8 books, Nicki is following up on leads to big stories that are breaking, sometimes putting her own life in danger, as she becomes part of the action, to get the story. I loved this aspect of this series, Ms. Jamison truly made me feel like I was transported into the story, right along side of Nicki trying to solve these crimes which ranged from arson, to robbery, drugs, and murder, all in an attempt to get the attention of her boss at the Newspaper, and stop being a "rookie" reporter in his eyes.
Throughout these books, we are introduced to wonderful supporting characters that make this series such a fun read! Sean Ramsey is one of Nicki's closest friends, they had been that since high school. Both of them pining away for each other for eight long years without the other knowing. Nicki Sosebee is a very sexual woman. I love that about her, she isn't afraid to be in the moment, and when the moment comes for her to start seeing Jesse Roberts, Sean's best friend in a new light…a love triangle is formed. From the beginning of these books, It was tough to decide just who I wanted Nicki to date! Both men have endearing qualities, that made it hard as a reader to decide who she should be with! We are also introduced to her girlfriends Brandy and Jillian, who have their own thoughts about who Nicki should love. With each book in the series, Nicki matures not only in her love life, but also with her articles for the paper, just when she thinks her life is coming together, it all starts to fall apart. Who will be there to help her pick up the pieces? For me, these were some of my favorite scenes in the entire series! Nicki having to depend on someone to help her make it through a tough time, and also makes her focus her life, as to what is important to her, and what she needs to do to make that happen!
I really enjoyed this series, and after talking with Ms. Jamison, was so happy to hear there are more Nicki Sosebee books planned. With another book from this series due out this fall! I'm looking forward to following Nicki on another journey, and I am keeping my fingers her love life won't have me wanting to throw my Kindle across the room! If you haven't read Jade C. Jamison's other books, I would highly recommend them! I give this book series 4.5 Stars!
About the Author

Jade C. Jamison was born and raised in Colorado, moved from one city/town to the next, and she's decided she likes it so much she wants to stay…although travel is not out of the question. She lives in a big town in Colorado (not unlike Winchester!) with her husband and four children. She is working on becoming a crazy cat lady. Okay, so maybe not.
Still want more? Jade has a bachelor's degree in English Literature and Theater, a master's degree in English, and a master of fine arts in Creative Writing. Obviously, she loves school and the student loan folks love her. She works in human services by day, teaches English and creative writing at night, and—in between playing soccer mom and community leader—writes like a fiend. Someday soon, she'll narrow it down to just writing, but let's get all those kids off to college first.