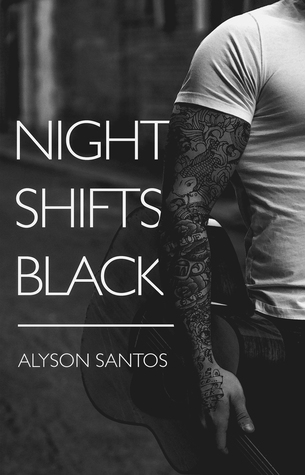 Night Shifts Black

by Alyson Santos
on March 22, 2016
Buy on Amazon
Goodreads


His name is Luke. But nobody knows that. He was an iconic musician before he gave up music. But nobody knows that either. They also don't know he's twenty-seven, that he used to have an infectious laugh, and that he's way too young to be widowed. They certainly don't know the rest of his tragic story. All they know is that he comes into their café at the same time every morning and stares at the same chair at the same table. They know he's strange. They know he interrupts their breakfast with a cold blast of air as he hovers in the doorway, mustering the courage to confront a piece of furniture.

No one asks why. No one cares. He's fine with that. He's done with life. This isn't even his story anymore. It's actually Callie's, the young writer who sat in his chair one day.
This was 5 star read for me, truly the kind of book that moved you as read.  I am going to try to relay my love for this book, a book with no sex. Yes if you know that is so rare for me. This book is included in a small elite class of 5 star reads with no sex for me, ok yes I am rambling… back to 

Night

 

Shifts

 

Black.

 How do I relay my love of this book without giving away the story; an amazing story about pain, and healing, the power of friendship and the power of love. 
This is a well written, realistic book; one that touched me so deeply that it is still running through my head as I struggle to find the words to compel readers to give this book a try. Oh and I should say I love finding new authors and Ms. Santos is now a must read for me! 
From the moment I read the blurb, I was drawn to this book. I reorganized my review list to dive in and I am so glad I did.
When a good friend who has a shared loss by suicide told me how amazing this was, I dove in and was so thankful I did. It is a phenomenal story that may a time catch you off guard but in the end creates a beautiful woven tapestry as the characters' lives intertwine.
This book will offer you a look into the darkness, a look into depression, life altering, pure to the bone pain that this deadly disease causes. This it is a long passage below, I am going to let Ms. Santos words speak for themselves: 
"It's a curtain," I say quietly.

He doesn't respond, but I know he's listening. I turn and glance at him briefly so he knows it, and has to accept the fact that I'm not leaving until I've finished my speech.

"Depression, that is," I continue. "People who've never experienced it think it's a mask, but it's not. It's a curtain. And when it falls, it shuts you off from your life, plunging you into complete darkness. There you stand, arms flailing around you, reaching for anything to find your way back. But after exhausting yourself, grasping at only more darkness, you give up and drop to the floor in resignation.

"And so you sit. You and the blackness. You and the accusations. You and the self-hatred, the lies that become truth, the failure and pain and hopelessness and 

black

 thoughts that twist through you, impaling you to the floor. There you bleed, alone in your 

black

 hole, convinced the audience on the other side of the curtain has given up and gone home. The show is over.

"Before you know it, you realize the curtain has turned into a cement wall, and you couldn't escape the darkness even if you wanted to, but by now you don't care anymore. What's the point? There's nothing waiting for you on the other side, and even if there was, you're such a useless waste of space that you wouldn't dare to contaminate the world outside with your cancer anyway."

I stop, my eyes burning, my voice heavy in my throat.

"You feel like crying all the time but you rarely do. Depression isn't sadness; it's numbness. You don't have the energy for sadness. You can't sleep. You don't eat. You have no desire for the things you used to love, but it doesn't matter because you can't love anyway. You feel nothing, just a dull, heavy ache that makes it hard to breathe sometimes, let alone get up to start the search again. You fantasize about disappearing, just erasing your pointless existence and sparing the Earth from your toxic presence. By now you're so exhausted just from the effort of living that there's nothing left to live it."
This is just a glimpse into this author
's beautiful use of the english language layered into the story are song lyrics that will move you to tears and poetry that will touch your soul even if your life has not been affected by mental illness.
You see I am a sister left alone by a loss to suicide, losing my brother and only sibling almost 12 years ago.  Ms. Santos showed me a window into my late brother's soul. Yes I heard my brother's pain echoed in the words inside this book. The author took such care and poetic grace as she shows the reader the depth of the pain depression causes to both the person affected and those close to them that this book touched my soul.
Ms. Santos is true to this disease, love does NOT make everything better. Luke is not fixed because he loves Callie and as the blurb says be warned this becomes her story:
"This isn't even his story anymore. It's actually Callie's, the young writer who sat in his chair one day."
Oh the chair…. yes this inanimate object plays a central and haunting role in this story…
As I mentioned this book does look at friendship, the power of that love, a new friendship and old friendship and the depth you will go to pull a friend back from the brink. Yes, cryptic but please read this book!
Ms. Santos I so hope we get more of this cast because yes there is a happy but I feel there is so much more room for your voice to continue this journey for 

Night

 

Shifts

 

Black

 (trust me that makes more sense when you know how the book title plays into the story).
As the character says in the book, words can affect people. I hope this book opens eyes to mental illness and maybe just maybe raises additional awareness for the deadly disease that is mental illness.   
Oh one last thing I freaking loved Casey. I can't write a review without saying that, though I will not tell you who Casey is .. read the book!