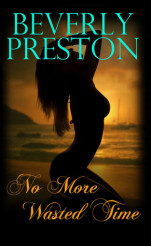 3 STARS!!!
Summary
Life isn't about tomorrow ~ Life is about today
After losing her husband to a sudden heart attack, Tess Mathews escapes to Bora Bora to lay her husband and sorrow to rest. What she doesn't expect is a new beginning.
Tom Clemmins is an A-list actor whose life revolves around work and an onslaught of women. He travels to Bora Bora for a much-needed break. Tom has a few ideas of how he'll enjoy his vacation, but love isn't one of them. Until he sees Tess.
Reserving a private shark-feeding excursion to scatter her husband's ashes into the lagoon, Tess is furious when Mr. Hollywood bribes his way onto the boat, leaving her no other choice but to share the boat ride.
Tess is torn between tremendous guilt and zealous lust when their boat ride turns into a week full of romance and desire neither thought imaginable. Utterly smitten with a woman for the first time in his life, Tom casts his commitment phobia aside and whisks Tess off to Malibu where he introduces her as his "girlfriend" on the red carpet.
As the paparazzi besiege, can Tess survive the media blitz that ensues in order to find her second chance at love?
Denise's Review
When Tess Mathews losses her husband to a sudden heart attack she is faced with a life she did not expect; alone with three almost grown children.  She had a solid marriage and thought she would have her soul mate with her for years to come.
The book opens with Tess traveling to Bora Bora to lay her husband's ashes in the seas; in a place he adored.
Tess' journey puts her in the path of Tom Clemmins, an A-list actor with a reputation of working and playing hard.
You really start to feel the connection between the two of them and you understand Tess' struggle with guilt as she battles to internalize her newly single status and the tangible reaction she is having to Tom.
Tom knows how to treat a woman; he is romantic and makes wonderfully grand gestures.  Tess knows he is afraid of commitment and attempts to dismiss these often grand gestures  as Tom being Tom.
Well, Tom proves Tess wrong when he brings her back to the states and introduces her to the paparazzi as his "girlfriend." The media onslaught this causes is something Tess has never encountered and makes for some powerful scenes.
I really enjoyed the use of Tom's friends to highlight why Tess was different in his life. Tess saw it in their eyes, in their response to her.  This was almost more powerful that his words to her.
The use of Tess' three children was well done; there is an incident between Tom and Tess' son which is very poignant. Tom really tries to connect with each child in his own way.
The twist with Tom's past I thought was really well done – it explained a lot about him and he even used it to bond with Tess' son.  Tom and Tess both accept that each have a past and don't judge; that felt true to these characters.
I really enjoyed that this book was about mature adults and how Tom knew what he wanted and never wavered. 
I am looking forward to continuing to read about the Matthews/Clemmins family and to watching Ms. Preston developing as a writer. 
About the Author
#1 Bestselling Author, Beverly Preston has been a stay at home mom for 21 years, although she prefers the title Domestic Engineer. Along the way, Beverly worked side by side with her husband Don, the love of her life, designing, building and selling custom homes. As her children begin to venture out on their own, she's left to shed a tear—for a minute—wonder what's next in life, and embrace the feeling of empowerment that surely must've been wrapped in a present she received on her fortieth birthday.
If Beverly isn't at home riding her spin bike, you'll find her spinning richly emotional and sinfully sexy romance stories.
Website http://beverlypreston.com/
Facebook http://www.facebook.com/beverly.preston.7?fref=ts
Goodreads http://www.goodreads.com/author/show/5622888.Beverly_Preston