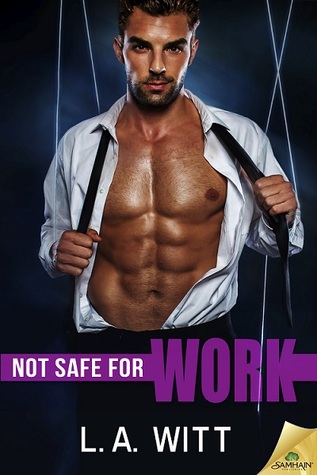 Not Safe for Work

by L.A. Witt
on December 15, 2015
Pages: 290
Buy on Amazon
Goodreads


They're a match made in the dungeon…until their secret gets out.

Bored senseless in a meeting, architectural modeler Jon McNeill amuses himself with a kinky dating app on his phone. Then the app matches him with another user…who's six feet away. Suddenly Jon finds himself on the same page as someone way above his pay grade: millionaire property developer Rick Pierce. His firm's biggest—and hottest—client.

The app isn't kidding either. They're a perfect match. Jon's a Dom, Rick's a sub, and bondage is their thing. Both guys are well into their forties, know their way around the bedroom, and definitely appreciate a good suit. And the best part? They're a match outside the bedroom too.

But office relationships aren't easy to keep a secret. When the truth comes out, Jon is certain he's about to get fired. Instead, his bosses throw him a curve ball—an ultimatum that puts both his job and his relationship in jeopardy.

Warning: Contains literal and figurative sex machines, blindfolds, a sub being punished during a business meeting, enough rope to tangle up a millionaire, and a Golden Girls marathon.
This tag line from the blurb grabbed me:
They're a match made in the dungeon…until their secret gets out.
Architectural modeler Jon McNeill is surprised when a kinky dating app leads him to Rick Pierce, the millionaire property developer running the high level business meeting he is in.
The connection between Jon and Rick is instant, they feel it and so does the reader! I was instantly rooting for them to find a way to happy! The bedroom scenes were hot and I thoroughly enjoyed bearing witness to these men exploring each other's boundaries.
There was many things I loved about this book, though their relationship wasn't easy it was real, these were adults with real problems, real complications and true obstacles to happy.
I absolutely loved how wealthy, powerful Rick was the sub and Jon the Dom who knew how to push all of Rick's buttons.
The supporting cast added so much to this story.  Jon's family, including his ex-wife, yes I said ex-wife, truly added heart to this story while his co-workers added humor and toward the end a true struggle.
The ultimatum that comes as personal and business intertwine was so well done.
I adored the epilogue to this book. It truly had be knowing this was happily ever after for these men and their extended family!